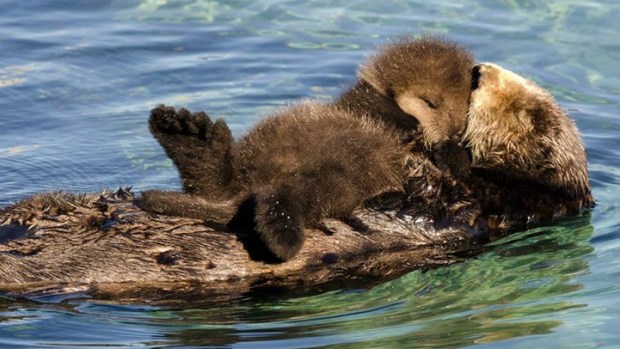 Monterey Bay Aquarium
An otter and her pup showed up in the Monterey Bay Aquarium Great Tide Pool on Wednesday, Jan. 22. The crowd above gave the requisite coos (and snapped a bunch of photos, too).
PUP PRECIOUSNESS: What sort of aww-worthy wonders show up in the Monterey Bay Aquarium's Great Tide Pool? Anemones and sea stars, you bet. Sheep crabs, for sure. And the occasional kid scuba divers? Yep, the Great Tide Pool is famous for giving young marine enthusiasts a safe and educational ocean experience. It's a place full of life, in short, and that life got a wee bit fuller on Wednesday, Jan. 22 when a wild otter and her pup showed up, much to the delight of the looking-from-above aquarium visitors. The duo was not part of the aquarium's otter den -- or romp or raft, if you prefer -- but rather had wandered into the tide pool straight from the ocean for a little aquarium-adjacent chill time.
AND PHOTOS ENSUED: Many, many snapshots, will all of them ranking high on the adorable meter. Why in particular? Because the otter pup was hanging out on its mother's torso, like otter pups are wont to do (we humans don't necessarily use our mothers for rafts when we're very young, but for otters, it is the natural way of things). If the photo above hasn't captured you yet, check out this clip, which may one day be deemed the Cutest Video Ever to Be Uploaded to the Internet.