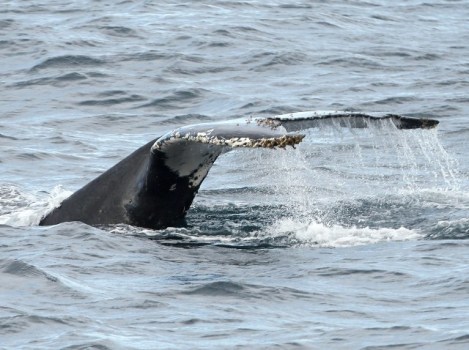 Getty Images
Dana Point and whales go way back. Well waaaaaaay back, since the burg is near the giants' migratory path, but we speak, of course, of the Festival of Whales. The long-running party swims over the first two weekends of March.
THAT SURPRISING MOMENT: There are some truisms in life we don't necessarily believe at first glance, and one of them is this: A watched pot does indeed boil, if you hang in long enough. It's the waiting that's a little off-putting, and though you feel a few times that you want to leave the kitchen, sticking it out is the best bet. The same philosophy doesn't quite apply to whale watching, as one can watch the surface of the ocean for a long time, hoping to see a fluke or a blowhole. But whale watch enough and you may eventually see a beautiful gray back skimming along its Pacific migratory path. It's this elegant elusiveness that lends whales some of their eternal mystique, we do believe, and we do believe that the elusive nature of spying a whale is in part why we landlubbers throw them so many parties. Neither flounders nor seahorses get the same weekend festival treatment, but the giants of the waves? They have bashes up and down the coast all late winter.
AND ONE OF THE BIGGEST? It's a Dana Point. It's out-sized on the longevity front -- 2014 marks its 43rd year. And it is big on the calendar front -- the Festival of Whales fills out two weekends. And as for events? They're as plentiful as gulls on a wharf. The Festival of Whales parade on the first Saturday -- that's March 1 -- is mondo, as is the Festival of Whales Grunion Run. Car shows, art shows, pancake breakfasts, and, yes, boat excursions to find the mega beauties are on the big-as-a-whale roster. Or nearly as big; a schedule typically doesn't weigh in at a few tons. For more on the fest, which dives for Dana Point over the first two weekends in March, swim this way, whalests.