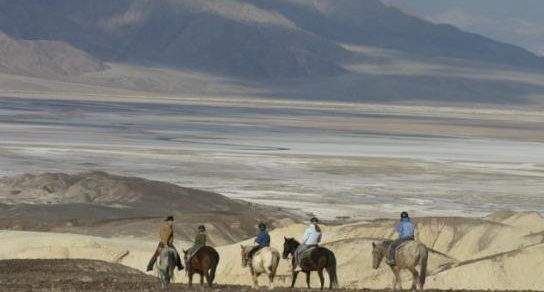 Furnace Creek Inn
Activities remain open all year long in Death Valley, including horseback riding via the Furnace Creek Stables.
THAT TIME OF YEAR: Winter in the northern hemisphere is traditionally the time of shuttering the windows, brewing something of the hot cocoa variety, and keeping out of the great outdoors. Weatherpeople have told us this, and the ad makers and television writers, too. But rarely do the people behind our images take into account Death Valley. Call it an anomaly or an exception to the wintertime rule, if you like, but be sure to also call it one of the lowest, driest, hottest places on earth. It is still low and dry, mostly, come the cold months, though it isn't topping three-digit temperatures. Still, it can be temperate, and beautiful, and perfect for outdoor pursuits beyond the accepted activities of wintertime, like sledding and ice-skating (neither is found in the desert-glorious national park).
PURSUITS SUCH AS... Biking and horseback riding. And while biking is something of a headline sport in the Death Valley National Park, fewer people may be aware that the Ranch at Furnace Creek is home to the Furnace Creek Stables. The trail rides come with a guide and are of the very doable one- to two-hour variety; figure you get just enough time to see some sights without being out on the range, or valley floor, all day. Opt for the longer one and head for the beautiful Funeral Mountains. The quirky part about this particular stable, of course, is that while the Ranch at Furnace Creek stays open for summer, the stables do not. It's an activity very much tied to summertime for a lot of people but only available in fall, winter, and spring in Death Valley.