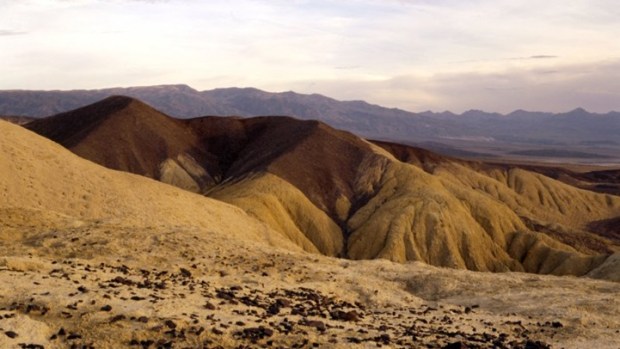 Ranch at Furnace Creek
Death Valley had a "chilly" day on Aug. 3 -- the high was just 89 degrees, a veritable winter's blast for "the hottest place on earth." Tempted to try an August getaway? There's a deal on at the Ranch at Furnace Creek.
NO JOKE: Have you ever told your pal a lengthy rib-tickler, with a really hilarious punchline, but, when you get to the big finish, they sort of blink at you, several times in a row, as if they're trying to comprehend what they've just experienced? We joke-tellers have all been there, and we all know The Repeated Blink. That's essentially what's gone down, in many meteorological-minded quarters of the weather-watching world, since Death Valley National Park hit 89 degrees Fahrenheit on Sunday, Aug. 3. That's a pretty acceptable, run-of-the-mill summer temperature for most places, it's true, but let's pause here to again consider where that high temperature occurred: Death Valley, "the hottest place on the planet." Hottest, driest, lowest -- these are terms frequently stuck all over the national park, like so many burrs on a cattleman's boots. Meaning this: 89 is pretty dang cool for that sometimes-cauldron-y spot. The National Weather Service Las Vegas noted that the "chilly" record breaker undid the "previous record low max of 104 deg set in 1945." And the Washington Post's Capital Weather Gang blog observed that Missoula, Montana was hotter on Aug. 3 than Death Valley.
BLINK, BLINK: The unusual occurrence is rather stunning, though the park is no stranger to cold storms -- Furnace Creek Resort recently posted a photo to Facebook of historic Scotty's Castle frosted with snow a few winters back. So while the wet front of early August has moved on and temps have again climbed in Death Valley, a package is still on to stay on a summer's day. The Ranch at Furnace Creek is the destination, the price starts at $163, and breakfast is included. Oh, and, don't worry about keeping your own temperature down: There's a spring-fed pool on the property. Nope, there's no telling if an 89-degree day will come back around any time soon, but Death Valley is glorious regardless of the season, be that season less sweaty or as sweaty as condensation on a glass of lemonade.