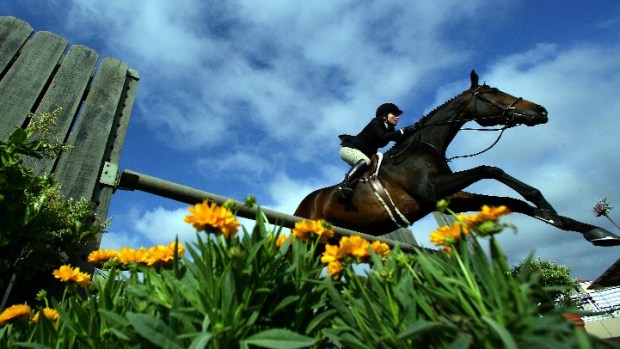 Getty Images
A past competitor leaps at the Del Mar Horse Show. The 2012 events run from April 19 through May 6.
CLIPPITY CLOP: We're just about three months out from the opening of the Del Mar season, but pony fans know there's still amazing horsery to admire ahead of that date. (That date, by the by, is July 18 this year.) The Del Mar National Horse Show is of course what we refer to here, with the added good news that the prestigious event just opened on Thursday, April 19. It will be trotting right through Sunday, May 6. Fans of the venerable show, which has been clip-clopping for over six decades, know that there are three main categories to the proceedings: Western Week, Dressage Week, and Hunter/Jumper Week. While each has its ardent fans, look for the same spectators to return a few times during the three week schedule.
HORSEY HIGHLIGHTS: Night of the Horse is the shining star of Western Week. The Saturday, April 21 will feature "amazing equestrian acts" and other family-fun to-dos. Bo Derek is the Mistress of Ceremonies. And the Hermes Evening of Musical Freestyles on Saturday, April 28 also intrigues. It is the Dressage Week centerpiece, meaning fine training and horses able to move fluidly to choreographed routines will be the crowd-wower. And the Grand Prixs of Hunter/Jumper Week come near the close of the Horse Show, as well as the Jumping Classic. Equestrian fans, happy horse watching; Del Mar is truly one of the west's premiere pony events.