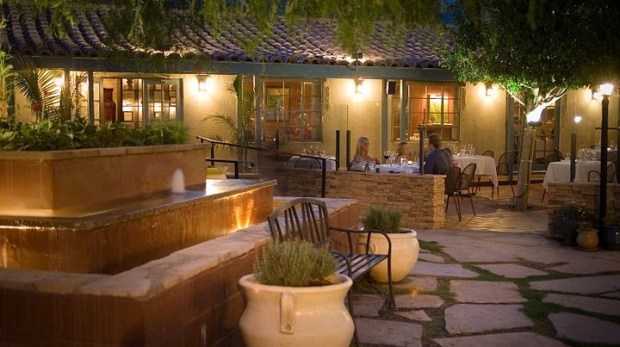 Palm Springs Restaurant Week
Desert dining: Patios, misters, sunset, fine food. And deals, too, if you're in Palm Springs during Restaurant Week. It runs from May 31 through June 16.
WARM-WEATHER CUISINE: There are a few things in the food world that can be counted on with certainty: 1) Strange ice cream flavors, like the rosemary-butter-wasabi sort, will continue to poke into new untried pockets of dessert experimentation. 2) Chips and dips will always be a sports Sunday staple. And 3)? Food is very often sold, at least in concept, depending on the weather. It's rare to find a hot cocoa stand at the beach on a July day or a sno-cone machine on a ski slope. But that doesn't full explain how the desert and summertime became strictly about salads and refrigerated foodstuffs. Indeed, we want to eat lighter when the digits do that triple-digit thing, but not always. The point is we want to eat better, and that isn't weather- or temperature-dependent. Exhibit A is the long, lavish, and ever-growing-in-popularity Palm Springs Desert Resorts Restaurant Week. Nope, it isn't scheduled for January, alongside the area's international film festival, nor February, when the buzzy, bustling Modern Week arrives in town. It falls square at the start of June.
WHICH... It turns out, isn't just about slices of melon and salad. Restaurant Week, which runs from Friday, May 31 through Sunday, June 16, covers the gourmet gamut, from applewood bacon-wrapped dates at Babe's to braised short ribs at Cello's. For sure you'll find some salads and chilled bites, if that's what you require in an arid clime in June, but the week highlights the resort region's robust restaurant scene *beyond* the plate of cottage cheese and pineapple rings. (Mmm, though that sounds good, too.) The upshot? Palm Springs is plenty bold to throw its big food party during its toastier time of year, and to fill it with foodie items that aren't traditionally tied to summer. The only constant among the menus will be the good dining deals; three-course meals are running at $26 in some places, which is nothing to sniff -- or, er, sweat? -- at at all.