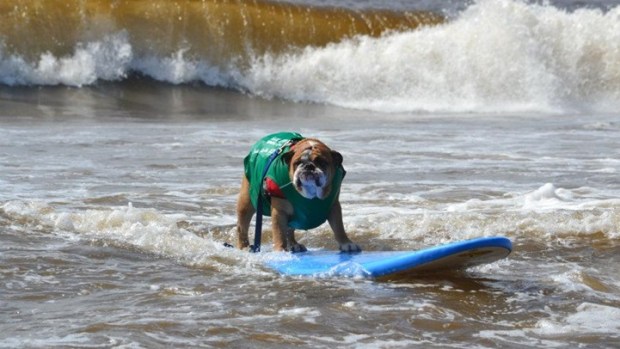 Surf Dog Surf-a-Thon
The Surf Dog Surf-a-Thon heads out for some hang twenty and some fundraising, too. The popular and much-photographed event makes for the Del Mar-close waves on Sunday, Sept. 8.
HOUNDS IN THE H2O: We're pretty sure that social media, as a concept, might suffer if people were prevented from posting photographs of their pooches in the bathtub, in the pool, in the rain, in a puddle, and prancing along the ocean. Science may one day prove that dogs + water make up 9% of all snapshots posted to Instagram and Facebook, but even then we'll cock an eyebrow and call that number suspiciously low. It's just that we dog-loving humans get a real kick out of seeing our canines at play, splashing about, getting all mucky, and, yes, dog-paddling (which dogs tend to do rather well). But once we incorporate some people aspects to a dog + water event -- say, a surfboard or goggles -- well, count on the "awww"-factor and picture-taking to zoom through the doghouse roof. Simply put, we go pudding-kneed over surfing pups. This means a few things. One? Seeing a dog on a surfboard is a spirits-lifter. And two? It's also a great fundraiser, which is exactly the philanthropic aim of the annual Surf Dog Surf-a-thon, which is ready to take to the foam, with a bunch of Fidos in tow, on Sunday, Sept. 8.
DEL MAR DOG BEACH... is the lappy-tongued location and the party starts at 8 a.m. Humans often dress in theme with their dogs before boarding their boards, but, even before that, way before, they've been fundraising. The beneficiary of the day is the Helen Woodward Animal Center, so you can say that these surfing dogs are helping other local pups in a pinch. If you and your dog raise more than $95 you'll get a "Rescue Hero" bandana, and science may one day prove that dogs + bandanas make for some very cute, social media-ready photographs. Even if you and your furry one don't participate, you can certainly show at Dog Beach on Sept. 8 to watch, cheer, and donate.