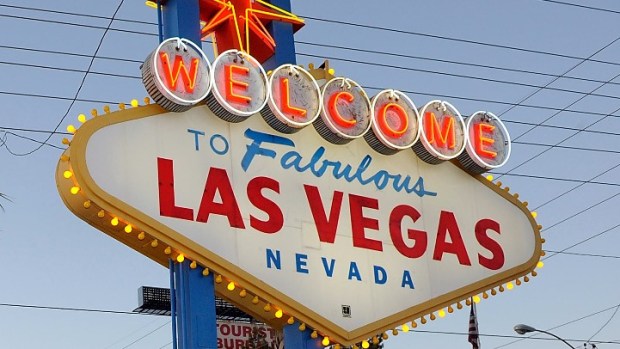 Getty Images
Excited for Sin City's Neon Museum? Get to opening night on Friday, Oct. 26, and pack your Rat Pack-era clothes, too.
RAT PACK COOL: Regardless of how many times we might visit Las Vegas, our mom always gives us the same advice: Pack your heels for daytime. It's an unusual request these days, given our society's devotion to casual wear, but it isn't for someone who lived it up along the Strip back in the '60s and '70s. Perhaps your mom remembers those times, too, when women wore heels, pearls, and pastel-hued shifts at 10 o'clock in the morning and a gentleman was just as apt to be in a suit and skinny tie. It's a look much associated with the Rat Pack, and good reason, but even movies like "Swingers" have revived it. So it is no surprise that Frank and Sammy fans, as well as modern Rat-Packers, want to live that lifestyle when lounging about Sin City. The chances to dress up nowadays aren't slim, of course, but the chances to dress '60s-style are. But wait, here's one way, and what a setting, too: The Neon Museum is throwing a vintage-era party the night before its big grand opening. And the dress code? Old-school Vegas.
THAT'S RIGHT: You'll want to bouffant the heck outta your 'do and wear your cufflinks if you're a guy. It's going to be '60s-flavored swank, all the way. Figure that part of the proceeds from the night go to the care and upkeep of all those vintage signs that lit-up partiers along Las Vegas Boulevard a half century ago. A ticket is $75 and you get the side benefit of checking out the museum before most people. Out of sight. If you can't make it, though? The museum officially opens on Saturday, Oct. 27. We still say dress up Rat Pack-style, if you like. Sure, most people'll be in jeans, but someone has to carry that particular sartorial torch for Sin City. Why not you, retro lover?