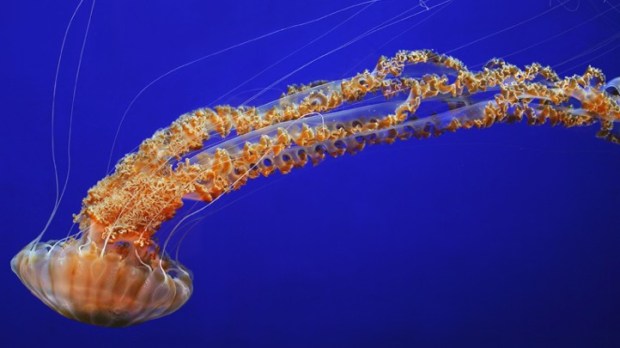 Monterey Bay Aquarium/Randy Wilder
Graceful sea nettles are featured in the Drifters Galleries.
SWEET JELLIES: If you've been to an aquarium recently, you can avow that the low-lit room, or rooms, with the jellyfish tend to stay pretty darn bustling. Maybe its their otherworldiness or -- well, wait. We'll stop there. Everyone but everyone loves the otherworldliness of the jellies. It's just practically fact. Of course, we also admire how they move, and their unusual hues, and that they have no brains or bones. And an aquarium that's been refurbishing its jellies area? Definitely wants to make sure that it is back up running by summer. Oh, and look at this; the Monterey Bay Aquarium's popular Drifters Galleries reopened on Saturday, May 28.
MORE TO COME: The institution says that visitors can look forward to a "new jelly swarm experience" and a "plankton multimedia lab." Cool, and definitely cool for aspiring marine biologists. If you head for Monterey later in the summer, note that the Outer Bay exhibit will re-debut in July (we can hardly wait to see the puffins in Outer Bay, because puffins are magical. Another fact.)