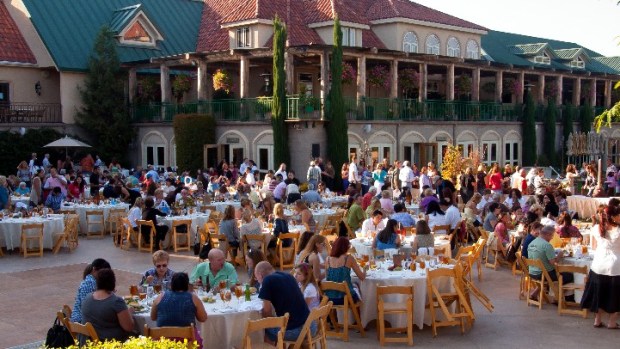 South Coast Winery
South Coast Winery in Temecula will celebrate the Blessing of the Vines on Sunday, April 22.
IMPORTANT HOLIDAY: While we'll make the claim that Earth Day is a very important holiday for every business -- that is, if that business has an address on this planet -- it is an especially meditative time for a vineyard. Few other types of industry depend as much on soil and air and sunlight and plants. Few other businesses watch the changes of the land as closely. In short, a winery and the plot of earth it sits upon form quite the tight relationship, meaning that an Earth Day party at a winery has special significance. It certainly does at South Coast Winery in Temecula. Each and every spring the winery hosts A Blessing of the Vines, which is, indeed, a moment when words of benediction are said before the rows of twisty leaves. The 2012 party is scheduled for Earth Day itself, which is Sunday, April 22.
ON THE SCHEDULE: A blending competition, a Texas BBQ cook-out, dancing, and, hello, wine tasting. It's a Sunday afternoon affair, out in the open air, so if you haven't found your perfect Earth Day observance yet, this very well could be it. We find a glass of chardonnay and a bit of sunlight is just the tonic to head into the week. And if a salute to our home planet is involved? Even better. Get ticket information and times.