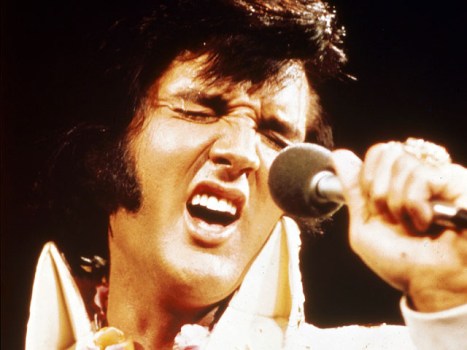 Getty Images
Elvis Tribute Day grabs a mic and sings it out on Saturday, Aug. 20 in Palm Springs.
HONEYMOON HIDEAWAY: For many fans, every day is Elvis Tribute Day. A song by the King is likely playing somewhere at all times; probably multiple songs are sounding from radios and turntables and computers as we type this (we're hoping "Suspicious Minds" is getting a lot of the love, because that is one ditty that only grows in beauty over the years). But actual Elvis Tribute Days at locations identified with the legend are indeed celebrated from time to time, and the fans come out and party and watch Elvis artist and, yep, they often don a lei or two. As they should. And as they'll be doing on Saturday, Aug. 20 when the Elvis Honeymoon Hideaway in Palm Springs celebrates "All Eras of Elvis" with a special day.
ON STAGE: Ted Torres, who is billed as "One of the Top Ten Elvis Tribute Artists in the Country," will be making magic. Glen Glenn, a pal to the King, will be present. And several tours will be ongoing, on the hour, at the byootiful, mid-century wonderland that we know as the Elvis Honeymoon House (Priscilla and Mr. P did indeed vacation at this home). And all of this in Palm Springs. Need you know more? Need you hear a song to get you in the mood? Turn the dial. AM, FM, your television radio presets, it matters not. You'll find EP and bet you'll find him fast.