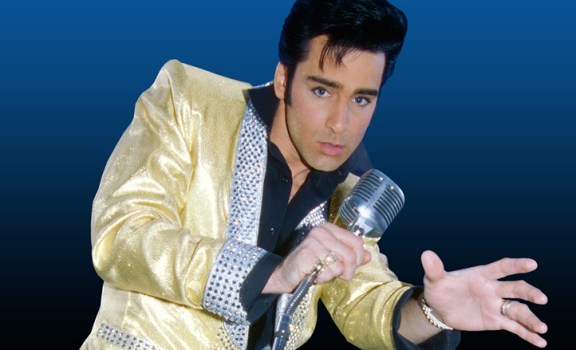 Elvis
Steve Connolly stars in "Spirit of the King." The show runs Saturdays through Wednesdays in the Cascade Lounge at the Spa Resort Casino in Palm Springs.
LEGEND IN THE DESERT: Nowhere can rival Graceland in terms of having important ties to Elvis Presley, and no city or place or building would try. But Las Vegas has also become much associated with the man in the sequin-bedecked white jumpsuit over the years, both through tribute shows and impersonators waving and shaking hands at conventions. One spot, though, that has very strong Presleyan history is Palm Springs. It's where The King and Priscilla honeymooned -- the Elvis Honeymoon Hideaway is a continual draw -- and it's where fans flock for regular tours. But the city itself? It hasn't had the live-performance mojo of Sin City in terms of Elvis tributes. This isn't to say that tribute artists don't regularly perform in the Desert Resorts, but getting your "Suspicious Minds" or "Are You Lonesome" tonight on is a bit harder, in a live way, than in Vegas. Now performer Steve Connolly is changing that, with a five-day-a-week stint at the Cascade Lounge at the Spa Resort Casino. Show name? The Spirit of the King.
THE KING IN THE SIXTIES: Also of note? While a tribute artist's show might span a performer's entire lifetime or career, Mr. Connolly principally focuses on Elvis circa the 1960s, which just happened to be his Palm Springs decade. A local tie-in is always good. And the show's capper? A "speed painting" of Elvis. That's a bit of Sin City-style razzmatazz in the desert, for sure.