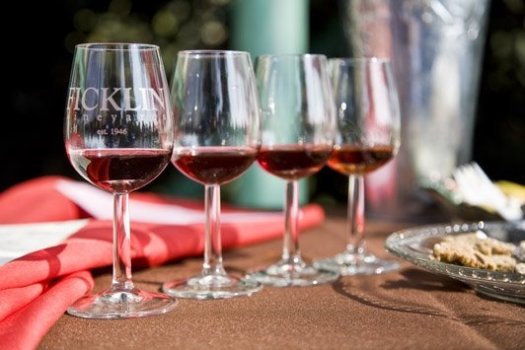 Madera Wine Trail
Try the luscious libations of Ficklin Vineyards and other Sierra foothills favorites when you visit the Madera Wine Trail.
TWO NICE WORDS TOGETHER: As we grow older, and we learn to appreciate the joys of food and drink, in whatever way we do, there are certain words that stick out as being particularly pleasant. "Buffet" is rather nice, as is "grilled." "Bottomless," when it refers to mimosas in particular, charms, and if "cheesy" is put in front of practically anything, whether it is technically edible or not, we're probably there with our plate in hand. But the two best leisure time terms, in our estimation, happen to be the words "wine" and "trail." Both things are nice when presented separately, but together? Magic happens. A wine trail is simply a defined area that has a) a road or several and b) a number of wineries and vineyards doting said roads. Not simply wineries and vineyards but rather places that offer tastings and other vino-related special events. Add a third word to the mix -- "map" -- and you have the perfect Saturday day out with you, your pals, and your designated driver.
MEET MADERA: Brochure-y write-ups often talk about Madera being a secret, but that probably doesn't apply these days. It's snug up in the rolling hills of the Western Sierra slope, not far south from Yosemite, and the surrounding scenery is classic gentle-hilled California. Making it perfect for...

WINE-TASTING: The Madera Wine Trail wends -- yep, you have to truck out terms like "wends" in this pretty, twisty area -- by towns like Oakhurst and Coarsegold. San Joaquin Wine Company, Birdstone Winery, Ficklin Vineyards, and Westbrook Wine Farm are all names on the map. There are also three Wine Trail Weekends throughout the year, but we'd visit on our own in summer or early fall. Definitely make a swing through if you're doing Gold Country, the Sequoias, or Yosemite, and you happen to dig wine. Variety, small growing operations, and really flavorful bevs await. (Yep, "await" is pretty dang brochure-y, but since we weren't going to talk about it being a secret, we had to fill that brochure-type void somehow.)