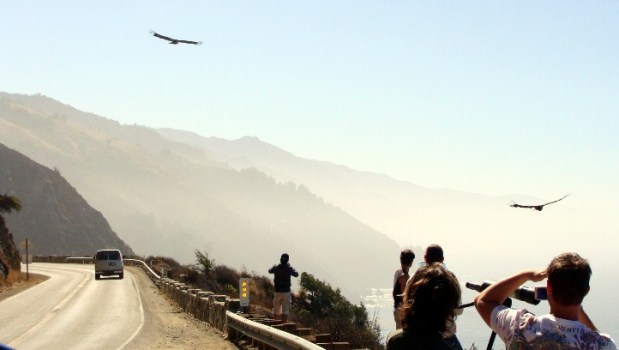 Ventana Wildlife Society
The California Condor Viewing Tour in Big Sur happens the second Sunday of every month. But note: The tours book up way ahead of time.
BEAUTY IN FLIGHT: If you were around in the 1980s, or if you just like to keep up on issues of the natural world, you'll remember the rather unbelievable and sad day when people learned that the number of wild condors left didn't even top two dozen. That's not two hundred or two thousand but fewer than two dozen birds. It's a jaw-dropper, even years later, but hats off to those tireless people who have worked on condor conservation through the years; it certainly is an important calling. And it is certainly important that Golden Staters and our visitors lend a little love to the condors. We can do that, and we can thrill to their majesty and big wings and big, ocean-close swoops at a once-a-month Big Sur tour presented by the Ventana Wildlife Society.
EVERY SECOND SUNDAY: The California Condor Viewing Tour heads out to Big Sur and employs radio telemetry to find and admire the birds from afar. It costs $50 per person. We get to thinking about the condor tours when the weather gets fine and around the parental holidays -- it is the perfect outing we think for a family of nature lovers. But because the weather is getting fine and everyone wants to be out and the tours book up, you're now looking at July. Still, that's not so far off, so check out the Ventana Wildlife page for more info on signing up through the Salinas office. Lastly, we can do what we can to love on those big, dramatic, featherless-pated vultures, even if it is supporting the organizations that support them.