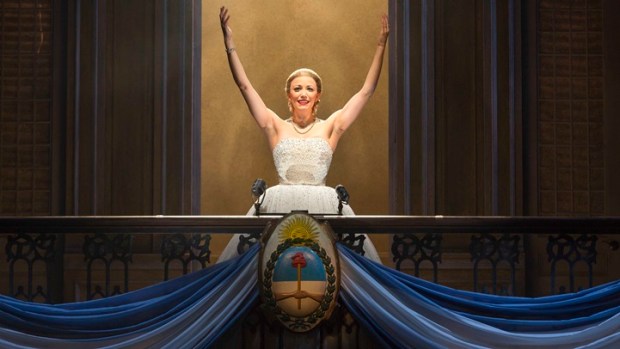 Photo by RICHARD TERMINE
"Evita" opened at the Segerstrom Center for the Arts in Costa Mesa on Tuesday, Dec. 10. Going? Best arrive early, to participate in the pre-show activities.
DVD-STYLE THEATER-GOING: Here's a little quiz, for you, and it won't be graded, promise. When you pop in a DVD, one loaded with special features and surprise extras, do you head straight for the film or do you spend a few minutes tooling around the commentary and behind-the-scenes photos? Surely this must be something that makers of DVDs consider, at length, when deciding how to set up a movie's menu. But it is a concept that is going wider -- much wider. We're talking about special extras and features in life, surrounding other events that are off our screens. Look to the lavish production of "Evita" -- yes, indeed, the Tim Rice-Andrew Lloyd Webber spectacular -- that's on at the Segerstrom Center for the Arts through Sunday, Dec. 22. Audiences will be treated to the captivating story of Eva Peron, and songs like "Buenos Aires" and "Don't Cry for Me, Argentina," indeed, but there's some pre-show action, too. So if you're planning on catching a performance, be sure to make for Costa Mesa early in the evening, to take part in the...
DREAM WALL: There is indeed a Dream Wall up, and audience members are penning their own hopes and goals for display ("Evita," of course, is very much about big dreams, so this activity definitely dovetails with the theme). A Stage & Screen exhibit considers the groundbreaker of a musical -- and movie, too, natch (hello, Madonna) -- while a special balcony has been set up for your own photo opp. Balconies, of course, are more tied to this story than any other tale in recent times. If you'd like to sing "Don't Cry for Me, Argentina" during your snapshot, we're pretty sure you'll be able to belt it out unimpeded. It's a nice trio of to-dos, to get musical mavens in the mood for a grand stage show of the Webber-y sort. If only all musicals came with a special features menu that could be accessed before the show. Accessed not via a remote control, of course, but by simply arriving ahead of time and engaging.