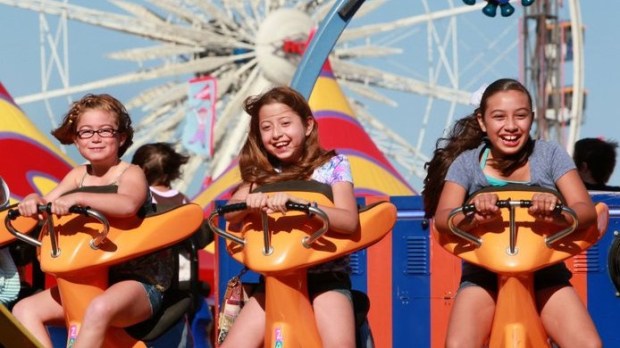 OC Fair
The 2011 OC Fair will have lots of promotions, including a Kids Day every Thursday.
WHAT WE KNOW: When a big fair is ahead, we know a few things. We know there will be fried things, and they will likely be presented on a stick. We know small pigs will run around a track and nearby people will squeal and cheer. And we know there will likely be several rides that made kids happily dizzy, so much so that they immediately beg to go on again. What we don't know, usually, are the dates of all the special promotions and stand-apart days that a fair hosts. Oh, we know they'll happen, but the whens and what-they-ares is another story. If you've been wondering what the whens are for the OC Fair's promotion days, read on.
KIDS DAY: The always popular day when kids under the age of 12 get in free returns; Kids' Day is every Thursday during the 2011 OC Fair. Clothing Day is on Wednesday, Aug. 3; donate five pieces of clothing (make sure they're gently used, says the fair) and get a free admission and ride. There's a School Supplies Day, too, on Wednesday, Aug. 10; arrive with a supply that's over three bucks and get into the fair free and get a ride. Note that both Clothing Day and School Supplies Day have restricted entry times --- noon to 4 p.m. -- but Kids Day is all day long each Thursday. There are several more promotions, so check here. The fair opens on Friday, July 15.