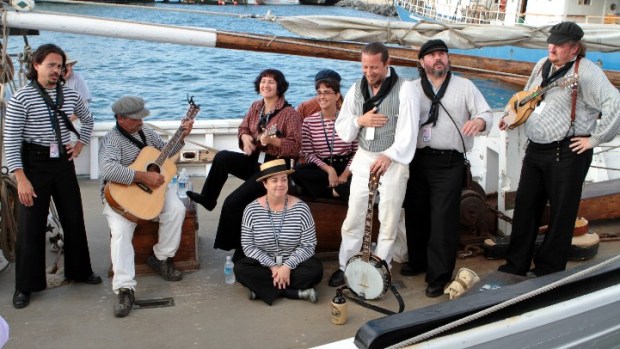 Maggie Walton
The largest tall ship festival in the West docks in San Diego from Friday, Sept. 2 through Monday, Sept. 5.
YOUR OUTFIT: You've got your striped shirt, yes? That's important. Then, next, the wide-legged trousers. If you have a spyglass, that's good, too (but best make sure your trousers have a spyglass pocket or loop, because otherwise you'll be hauling that thing around). Next? Make for the Festival of Sail, which is the Maritime Museum of San Diego calls "the LARGEST Tall Ship festival on the West Coast." That's some serious stuff, given that our California shores do see the occasional tall ship in any given year. The North Embarcadero is also transformed into a "nautical theme park," according the museum, so bet you'll see your fair share of striped shirts and spyglass-wielding deckhands. The 2011 dates are Friday, Sept. 2 through Monday, Sept. 5.
SHIPS APLENTY: The vessels scheduled to appear or participate is pretty astounding. The Pilgrim, the Surprise, and of course the Star of India -- one of the big, year-round attractions in the area -- will all make cameos (though if you're a massive ship with huge, billowy sails, even "cameo" seems a bit too wee of a word). Twilight cruises, cannon battles, and dockside high jinks are a part of the four-day yo ho ho. Striped shirt or not, we'd advise any tall-shipper to make way for San Diego. The 5 is probably the better route, but what adventure to go via the waves. Well. The waves await you there.