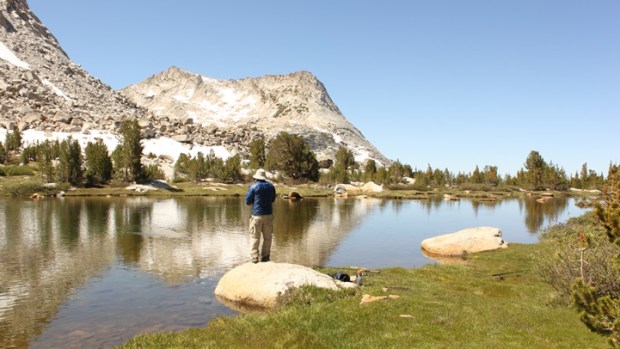 DNC Parks & Resorts
Fish at Fletcher Lake or another peaceful spot around Yosemite's High Country. Fishing is open at the national park through Nov. 15.
HIGH SIERRA H2O: When you picture Yosemite National Park, and you picture yourself within it, what do you see? Do you see yourself hiking, admiring waterfalls, taking photos of rainbows in the spray? Maybe you're lounging at the Ahwahnee or taking an open-air tram tour or riding a bike or saddling up for a day on horseback? All are popular choices, and a few of them can be done all year long. But the pleasures of summer, if not fleeting, are temporary, and some of them take the outdoor enthusiast far from the more bustling areas of the park. One fine choice? Fishing, of course, because, well, fishing -- it's about as ancient a pursuit as pursuits get -- and fishing's beautiful settings. Much of the cast-a-line action around Yosemite happens in the park's High Country, and the opening of the Tioga Road means better access to great lake-close spots. Or stream-close, if that's more your bag. So you have your equipment, your fishing know-how, and a gloriously free day. Where shall you show up, up in the Sierra, with your rod and reel at your side?
LAKE AND STREAM: Yosemite Park has a handy blog post up featuring the recommendations of Harry Vanderburg, and employee at Yosemite Village's Sport Shop (so that's definitely who you want to turn to for recs). Mr. Vanderburg likes the Merced River near Housekeeping Camp and May Lake and Gaylor Lakes off the Tioga Road. And what will you be catching out there? (We'll just assume you'll have a great fishing day.) Brook trout are fishy favorites in the spots named. If you want to head even further afield, into the back country, make for Fletcher and Vogelsang Lakes. But wherever you head, with your tackle and vest and rubber boots, head there before fall hits its two-thirds marker; fishing season closes on Nov. 15.