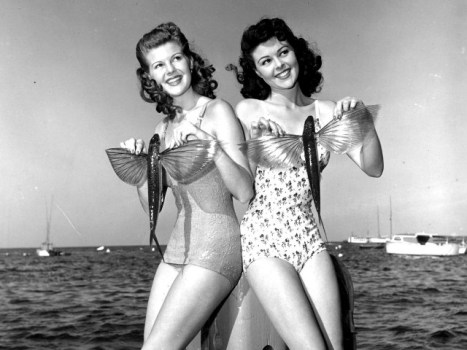 Catalina Island Chamber of Commerce
The 5th Annual Flying Fish Festival swims by Catalina Island from May 31 through June 3, 2012.
FAR-FETCHED FAUNA: Some places are fortunate to boast one unusual local animal or species of wildlife. We're talking here about actual animals here, not Bigfoot (but, honestly, if you've been up around beautiful Klamath or the Trees of Mystery, it is hard not to want to see the big guy). It is the rare place that actually has two "pull the other one" types of animals associated with it, though. And for that location to be on the small size, and an island? Truly rare, indeed. We're about to type the words "Catalina Island" here -- oh, look, we just did -- because the famous rock is home both to the 1920s movie buffalo and the flying fish. Okay, the flying fish don't actually reside on Catalina, but they're close enough to be very much linked with the place. But while the bison roam the hills all year long, the flying fish do, in fact, have a season. And what happens to mark the start of that season? A festival, of course.
FIVE YEARS: The island's annual Flying Fish Festival marks its half decade from May 31 through June 3. There are four days of fishy fun things planned, but pretty much anyone who makes it out Catalina will want to book a spot on a boat so they can actually see the air-flapping wonders with their own eyes. (Disclaimer: The fish kind of glide for a few seconds before reentering the water; nope, they don't loop-di-loop up in the sky.) Even if you can't make the fest, you can still get out during the summer months to see the fish. Oh, and what's this? The Catalina Express extended that awesome free birthday boat ride deal? Flying fish, we'll see you soon.