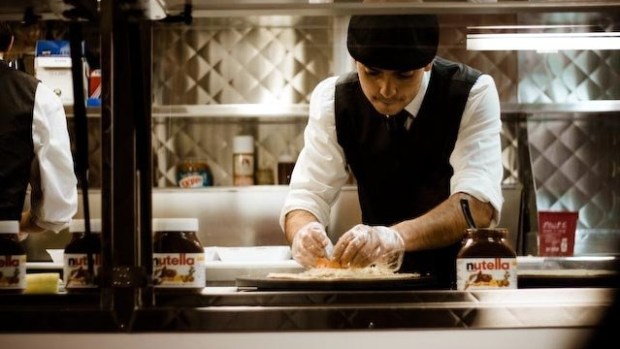 Crepes Bonaparte
Crepes Bonaparte will be part of Food Truck Thursdays at the OC Fair & Event Center.
TRUTH: There's no need to hold a Food Truck Thursday during a major county fair. Because the whole fair is practically one big food truck situation, right? Still. We sense that if a county or state fair did invite a dozen or so trucks into its lot that fair-goers would line up, even with all the tasty stuff inside the gates. Such is the sway of the taco and sushi and cookie truck. Such is the sway. The OC Foodie Fest is but a few days away -- it'll roll into Angel Stadium on Saturday, Aug. 27 -- but the OC Fair is keeping the grillable good love afire every week with Food Truck Thursday.
WHO'LL SHOW: It looks as though at least a half dozen trucks'll make an appearance every Thursday; Thursday the 18th brought out Brats Berlin, Lee's Philly, and Crepes Bonaparte. Figure it is kind of all the fun of Fair eating, after the fair has wrapped for another year. Is that even possible? OC Fair, you're twisting time and the rules again. In the best sense. Support. Food Truck Thursdays will run from 11 a.m. to 2 p.m.; the OC Fair & Event Center is located in Costa Mesa.