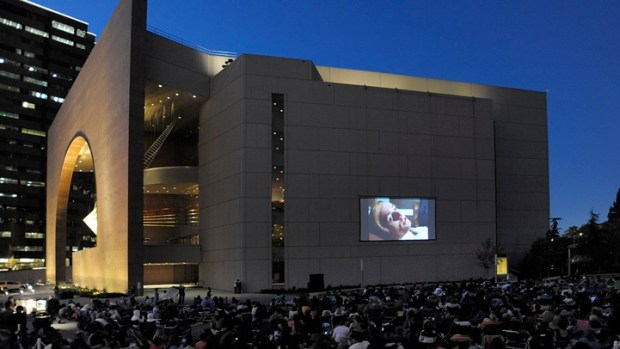 Segerstrom Center
The Segerstrom Center's free Movie Mondays open for summer on Monday, July 8.
TRIVIA QUESTION: There was a day not so long ago -- "not so long ago" is a few decades back, for this example -- when if a production appeared on Broadway, usually in big, splashy, musical form, then it would later make its way to Hollywood. Tinseltown scouts regularly kept an eye on what was playing well on the boards (we love trucking out terms like "the boards") and capitalized on the successes. But today tells a different tale. Sure, some started-on-a-stage stuff'll make its way to the silver screen, but you are just as likely to see a musical that started as a movie and then transformed into something live and on stage. "Flashdance" just donned its legwarmers at the Segerstrom Center, in fact, and "Spamalot," which sprung from "Monty Python and the Holy Grail," has a way of clip-clopping, coconut shell-style, into Southern California with frequency. Now the Segerstrom will spotlight several movies that inspired musicals, and they'll do it for free, when the Costa Mesa center's popular Movie Mondays kick off on July 8.
ON THE ROSTER: "The Wedding Singer" is there, as is "Buena Vista Social Club" and "The Lion King." "The Phantom of the Opera" and "Evita" will round out the summer Mondays. If you show with the whole musical-loving brood, you might discuss how a movie changes once it hits the stage, or vice versa, as you spread out the blanket and break out the pre-film snacks. Or you can just settle in and enjoy a nice way to start the week (and start it for free). It's an annual OC tradition we're always happy to see return, so cheers, Segerstrom, for thinking of the people who like the free, fun stuff come summer.