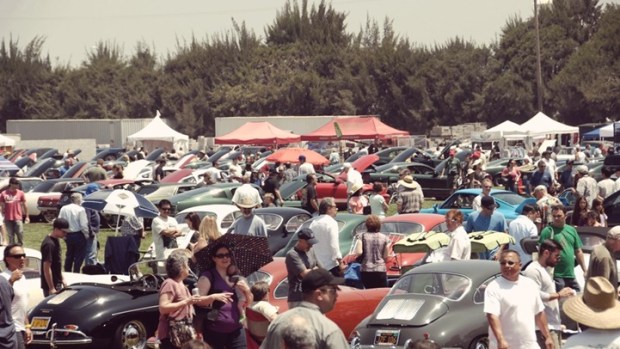 Friends of Steve McQueen
The Friends of Steve McQueen Car and Motorcycle Show parks at Boys Republic in Chino Hills on Saturday, June 7.
FAST WHEELS: You might have noticed, if you've ever seen a Steve McQueen film, and we're thinking you probably have, since the actor's movies are full of excitement and intrigue loads of retro dash and style, that there is a car or two. Would we be correct in that assertion? Steve McQueen films have cars? Oh, we tease, in good humor: Mr. McQueen and slick dream machines -- helloooooo "Bullitt" -- were a pairing film fans anticipated months before a flick's opening day. (Those wheel-laden lobby cards and posters did much to stoke the fender-obsessed excitement.) And while many parts of movies tend to stay on screen, and inside the projector, one element to Mr. McQueen's movie career enters the real world, our world, each June. It's the Friends of Steve McQueen Car and Motorcycle Show, at the Boys Republic campus in Chino Hill. The moving and important part of the one-day auto spectacular, which revs its engines on Saturday, June 7? It supports Boys Republic, "a private, non-profit, nonsectarian community for at-risk boys and girls ages 13-17."
THE CARS ON SHOW: You'll see many vintage cars -- we're daydreaming a few appeared in the background of some of Mr. McQueen's most seminal late '60s and early 1970s films -- and you'll meet wheel buffs from around the region. It's ten bucks to get in, but if you want to really do it up, put aside a hundred dollar donation for the Friday, June 6 dinner. It's themed to "A Thomas Crown Affair" with "invited guest speakers from the movie." Yep, cinema and cars and Steve McQueen is a trio made for the ages, and this fundraiser of a car-lover's dream further supports the dreammakery. Visit the show early on June 7 and then swing by another SoCal auto spectacular later in the day, one that also loves the vintage machines: The Gilmore Heritage Auto Show is at the Original Farmers Market at Third and Fairfax on Saturday, June 7.