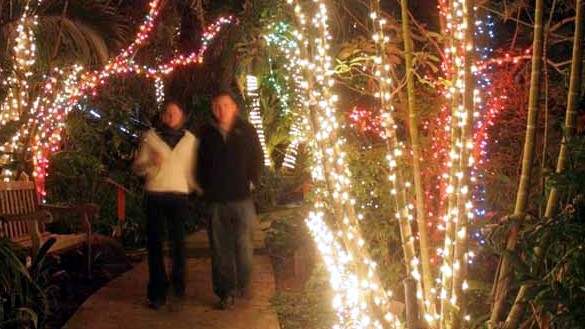 San Diego Botanic Garden
The San Diego Botanic Garden's Garden of Lights shimmers through Dec. 30 (note that Dec. 25 is off).
PEACEFUL NIGHTS: The holidays are so famously harried that even advertisers are in on the game. Remember how commercials often depicted families drinking cocoa together while watching the fireplace? No longer. Well, there might be a few of those spots around, but the go-to story for the humorous ad nowadays is to depict a family in a state of full-on December run-about-ness. It doesn't have to be that way, of course. (Well, it probably does, on occasion, have to be a little bit that way, or nothing would get done before the holidays.) There can be peaceful times in the busiest month. Really. There can be strolls by beautiful, long-stemmed plants all lit up in little twinkly bulbs. The San Diego Botanic Garden's Garden of Lights proves that it is so.
LIGHTS AND MORE: Yep, many of the Garden's gorgeous flora specimens will be aglow with all sorts of lights strings. But there are other things going on during the Encinitas-based event, which runs through Dec. 30 (though note that Christmas night will be dark). Snow will make a cameo -- well, "weather permitting," say the Garden people and on certain dates -- and Blond Belgian draft horses will be in the house. Or, er, gardens, rather. There are a lot of festive doings, but go for the peace and the twinkle. Don't we need a bit of that in the midst of the rush-rush-rush?