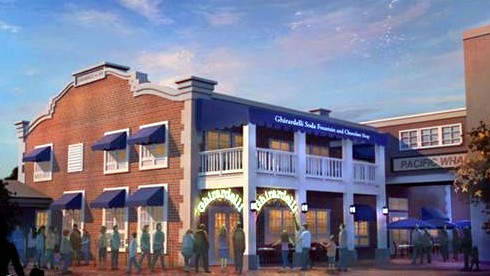 Disney
Ghiradelli will find a home at Disney's California Adventure.
SPRING SWEET: It's still a ways away -- spring 2012 is "a ways away" we can all agree, right? -- but if you're a chocolate fan and/or a Disney fan, it is worth learning now: Ghiradelli is headed for Anaheim. Nope, it isn't leaving its famous San Francisco home, but it will be setting up a quaint shop inside Disney's California Adventure, it was recently announced. It's headed for the park's Pacific Wharf district -- makes sense -- and will include a soda fountain. And possibly the tastiest bite of the news? "Each guest will be able to enjoy a complimentary sample of the signature Ghiradelli Squares chocolate." Oh yeah. Ghiradelli will debut in the same stretch as the park's newly designed Buena Vista Street and Cars Land, which expands over twelve acres. A little chocolate and a little Cars? A peppy day indeed.
WHAT'S AHEAD: For further info on what's set to open at the park, you can take a virtual visit to Disney's California Adventure's Blue Sky Cellar.