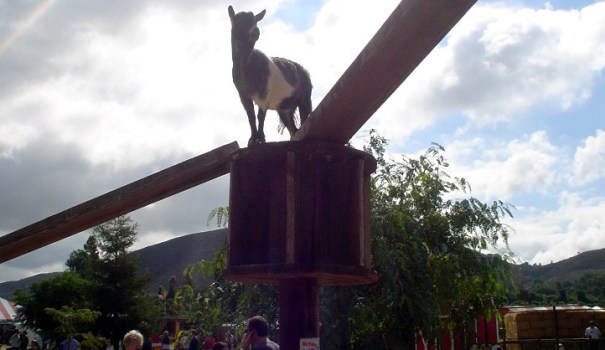 Alysia Gray Painter
The 2011 Underwood Fall Festival opens on Saturday, Oct. 1.
GOURDLAND: The truth of the matter is there are several fine pumpkin lots and petting zoos that pop up around Southern California in the fall. Some have a place you can take funny pictures -- you and your kids putting your heads through cut-outs in a board and making zany faces -- and some sell food of the roasted corn variety. But then there are the mega pumpkin destinations, the spots that sell pumpkins but have numerous food choices and numerous animals and a corn maze and tractor ride to boot. Underwood Family Farms in Moorpark has been one such destination for well over a decade, and the big, orange-y, goat-sweet extravaganza is gearing up for another month full of autumnal doings. The 2011 dates are Saturday, Oct. 1 through Monday, Oct. 31.
THEME WEEKENDS: There are a number of things that set Underwood apart. One, it stages a number of theme weekends that are devoted to a single cause or idea. Public Safety is up on the first 2011 weekend, and a Folk Festival follows on weekend two. The second set-aparter is that Underwood is open every day, not just weekends, and admission prices do drop on weekdays (although you should note that weekends tend to have more going on). Third? The corn cannons and tomato slingshots. Oh yeah. And no, you do not get to lob tomatoes at your older brother. And fourth? The famous goats of Underwood. They walk along planks in the sky (and often stop and sit for a spell). We will never, ever get tired of this feature. Makes us want our own goat planks at home, but, well. It might be better for us to visit them at Underwood.