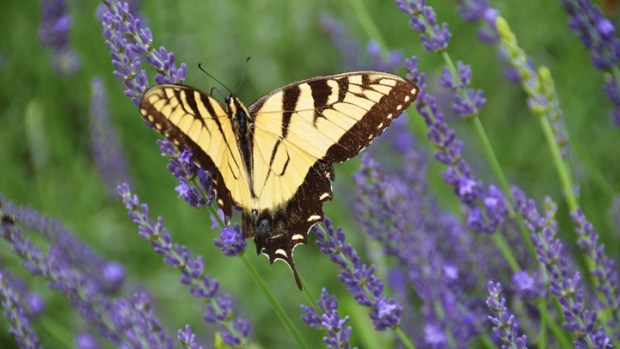 Butterfly
The Central Coast Lavender Festival is on Saturday, July 12 in Paso Robles.
SCENT-FILLED SUMMER: California happens to be home to a few wine-growing regions -- you might have heard that, once or twice -- but wine-growing regions aren't simply, well, wine-growing regions. They're olive-growing regions, too, and sometimes they sport a citrus grove here and there, or purveyors of excellent and bespoke honey. And in the flowering plant department? For sure, one purple-pretty, oh-so-fragrant celebrity can dominate a vineyard-filled landscape. We speak of lavender, of course, that good-in-every-soap, wonderful-in-essential-oils addition. Visit Temecula or Ojai or Sonoma or Napa and you're bound to find lavender growing, in small or large plots. And, if not, you'll come across many products for sale in winery gift shops and such. (Seriously, is one permitted to depart a wine country vacation without a few lavender sachets tucked inside one's luggage? There must be a rule?)
BUT WHERE TO REVEL IN IT? There are a few spots that crop up, and events, too, when the weather growings toastier. June is one of lavender's big months, meaning that places like Paso Robles'll host the Central Coast Lavender Festival on Saturday, July 12 -- hellooooo, dipping sauces and lavender ice cream -- and the Ojai Lavender Festival purples up Libby Park on Saturday, June 28 (it's free and over 100 vendors'll be lavendering-up flower fans' lives). Say you just want a tour? Lots of lavender farms have them, either on the schedule or by appointment. Ring the Temecula Lavender Co. if you want a look-see around. Or is a "smell-sniff" more appropriate? And can anything be compared to the scent of lavender? We know, other wine country products, including wine itself, you smell really nice. But, c'mon. Lavender. The big Lav. The best, and so nice to celebrate come early summer.