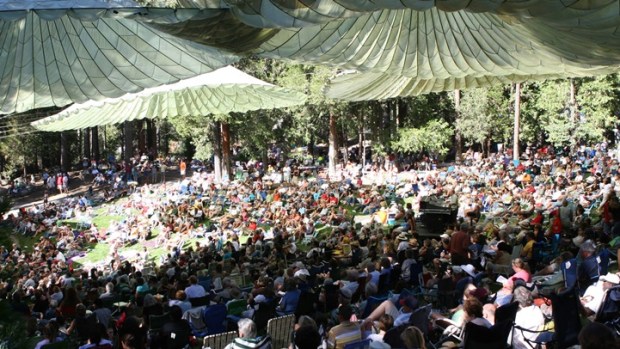 Idyllwild Jazz Festival
The Idyllwild Jazz Festival shines up the horns on Saturday, Aug. 16 and Sunday, Aug. 17.
MUSIC AND THE MOUNTAINS: How long have songs been tied, at least in spirit, to higher elevations? If we wanted to get rather lyrical, and we pretty much do because the topic requires it, we'd say it is a relationship as timeless as the soft purr of a breeze blowing through a fir tree and the sound of a snowflake softly hitting the ground. Which means that the myriad music festivals that dot the peaks of North America come summertime are fulfilling that ol' lyrical promise of uniting a beautiful lofty location with a seriously sonorous experience. California has several of its own musical mountaintop experiences, with a certain town on San Jacinto providing some of the best tunes come August. That is, at least, for the last 21 years, which translates into a good and long and prestigious run for the Idyllwild Jazz Festival. The smooth confab will again bring out some great musicians, and a legion of enthusiasts ready to chillax tree-side, on Saturday, Aug. 16 and Sunday, Aug. 17.
ON THE ROSTER: Yve Evans & Company start things out on Saturday morning -- yes, morning, or at least late morning, which makes sense, as this is a fest determined to fill out its full weekend -- and Henry Franklin, The Skipper & Crew round things out on Sunday evening. There's a Festival Marketplace to boot, for browsing/buying between sets, and food, too. And the beneficiary of the weekend? The Idyllwild Arts Academy and Summer Program. But the love of jazz is a focus, too, and the tradition of summer, sounds, and a mountain-high, tree-breezy setting. Nope, they don't just have such wonders in the Rockies or Appalachia; we're lucky, too, here, in the Golden State, and not too far from the SoCal cities.