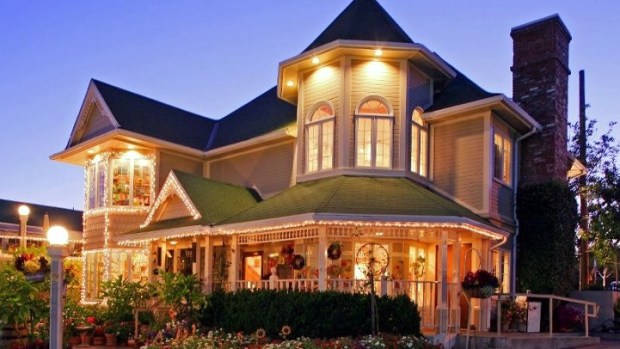 Apple Farm Inn
Want to stay in a grist mill? Or at least a lovely, posh reproduction? Find it at the Apple Farm Inn in SLO.
DIFFERENT CAMPS: There are a lot of camps in the world of travel and getting away. Some say you should revisit your favorite places each and every year, some say to never to this, lest you miss out on some dream vacations. And then there's the camp that says if you have the opportunity to stay in a reproduction of an authentic grist mill, you should absolutely take it. We're in that camp, and we know we're not alone. Plenty of people like an offbeat destination, but not so offbeat that they can't get a wink because their room is glowing or spinning or doing a bit of both. The grist mill building at the Apple Farm Inn in San Luis Obispo is just unusual enough to give you and your traveling companion a lot to talk about, but plenty comfy, too; after all, it is part of one of SLO's most famously quaint B&Bs.
FOR EXAMPLE: There are "private hot tubs" on the balconies of the Millhouse suites. Yep. A little posher than the grist mill of history and legend. There's also the Apple Farm Restaurant nearby and all the amenities of the inn, like ice cream made on the premises and apple cider. You're not staying at the Apple Farm Inn and *not* drinking apple cider, right? It's not a rule, but it probably should be. Guests should enjoy an inn's namesake beverage, and that goes for all inns (we're looking at you, hotels with "Wine Country" in your name). We say stow that tablet and all other screens for the night and talk about water wheels and meadows and flowers and such. Do a puzzle. We know your tablet has puzzles, but a table puzzle. Ah. Feeling more quaintly already.