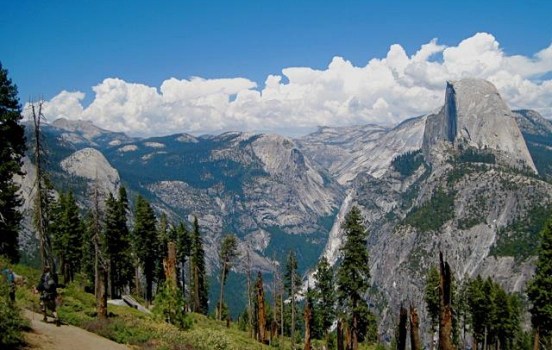 Yosemite national Park
The group hikes of Yosemite National Park? The views are mighty spectacular, rumor has it. Find the summertime strut that suits your needs and go.
HOW DO YOU HIKE? Hiking has one of the lowest barriers for entry of any sporting or leisure-time pursuit. All you need is a sturdy pair of shoes, a bottle of water, and a short and easy trail for your first time out and -- zoom! -- you're off. As you get more into the activity, you may add things on: A gnarly-looking walking stick, a tool belt to hold your sunblock and phone, a hat, a change of socks, guidebooks, maps, and a desire to try longer and harder trails. It is, in short, the perfect add-on-to activity, something that can be as spare or as ornate as you wish (most people, of course, lean spare, what with hiking taking place in nature and all). But what of the group hike? Not just a group of your friends, but people heading out into the same direction as you? It's yet another component to explore, and a good one, too, if you're finding that low barrier just a tad too high. The plan is mapped out for you, and there are people to guide the group, and more camaraderie to enjoy. Oh, and what a surprise: Our state's own beloved Yosemite National Park boasts a number of group hikes going over the summer season, including one with glorious views from Glacier Point.
TAKE YOUR PICK: Each hike is broken down into length-of-time, distance, and cost. One involves biking as well as hiking, and the Adventure Hike heads from Glacier Point to Yosemite Valley via the Panorama Trail (that's an eight-hour day and six to eight miles, so you want to make sure you're ready). The Discovery Hikes are described as "relaxed" so perhaps that's a good beginning point for the beginner. Wouldn't you love to work up to that Glacier Point one, though? An epic trundle down into the valley has to shake off a lot of those weekday blues, one imagines. Have a look, though, and find a hike that suits your speed.