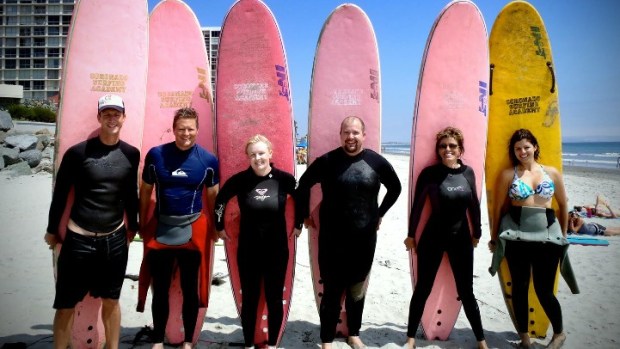 Hang Ten
Learn to ride the waves via the Hotel Solamar Hang Ten, then Hang Out package.
SURF STAY: There are plenty of water-close inns and getaways that'll provide guests with beach towels and sunscreen and plastic buckets and shovels for the little ones. It's all pretty thoughtful, and should come standard with every stay-over if that stay-over happens to be within a mile of the waterfront. But some guests are looking for more than the plastic bucket and shovel from their ocean holiday. They actually want to be out in the water, not dog-paddling or wading, but standing atop a board. Of course, if one has never stood atop a board the prospect can be daunting (more than that, really, lessons are necessary). Enter the Hang Ten, then Hang Out package from San Diego's own Hotel Solamar. People who check in'll get all the usual hotel niceties -- swank accommodations and evening wine reception and such -- plus surf lessons.
THE DEAL: The package kicks off at $269 a night and a two-night stay is required. Oh, and it opens on April 4 and runs through June 30, with another round in the fall. And who exactly is giving the surf lessons? The Coronado Surfing Academy. Here's our favorite bit, maybe aside from the evening wine reception (always hard to beat an evening wine reception on the favorite bits list): Students get their own full-body wetsuits on loan for the lesson. So this is serious stuff. You wanted to learn how to surf? You'll be doing it, full bore. And what better way to do something major?