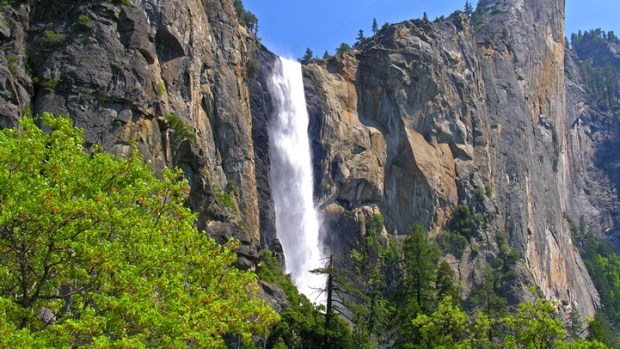 Kenny Karst
Bridalveil? It's a shimmery stunner. Make for Yosemite Valley and see it in full droplet-full wonder.
TRAVEL BUMMER: While a week of adventure has a bouquet of highs and only the rarest of lows, if all goes well, just about every traveler knows what it is like to arrive at something just as it is ending. You've likely been there, so you know exactly what we mean: You're pulling up to Old Faithful, in Yellowstone National Park, ready to see the geyser in action, but alas, the crowd is dispersing. You've missed the show and need to get back on the road. If only you'd been ten minutes earlier, well... You and the powerful sight would have had a profound path-crossing. In fact, no traveler ever wants to see a crowd walking away from what they've arrived to see, because that means one thing: It's done, whatever "it" happens to be. So when we say to you now, here, and with some urgency, that the waterfalls of Yosemite Valley are doing their powerful best and are flirting with peak, H20-hurtling performance, then you know time is very much of the essence. Early May doesn't last forever, nor does spring, and one of the most celebrated sights of the season will soon go back to its normal, still-spectacular self.
SPEAKING OF FALLS... the "extensive renovation" of Yosemite Lodge at the Falls wrapped in April. The "$10 million dollar multi-phased refurbishment of the guest rooms and lobby" employ the colors of nature and "eco-friendly materials." Renewable hickory saplings were used for much of the furniture and the bathroom went with amenity dispensers (not every hotel everywhere is yet on board, but call the amenity dispenser a fact of the future). Head for the valley to check out the water show, but swing by the lodge to see what a national park-style gussy-up looks like.