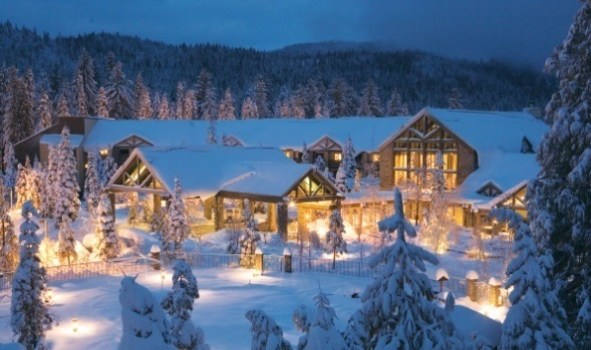 Tenaya Lodge
Tenaya Lodge, which is snug up against the southerly gate to Yosemite National Park, is offering a wellness retreat at the end of March 2014.
BREATHE DEEPLY: Practically every dance teacher or yoga instructor or meditation leader in the world has said to a client or student, at some point, "don't forget to breathe." It's a funny thing to be reminded of, and yet, to a person, we all kind of do forget from time to time, or at least we're not actively engaging in that sort of lung-expanding, moment-connecting breathwork that helps us slow down and reset. There is an exception here, and it has to do with place: Our breathing does very often deepen when we're in a beautiful spot or lovely land, and we want to enjoy the vista we're seeing and the friends we're with. It helps if it is mountain-y air we're taking in, crisp and cool. Which leads us to wonder if all healthy pursuits shouldn't have a woodsy, natural dimension, if only because people are apt to be in the "let's find wellness" mindset. One perfectly situation spot that's taken on this life-improving challenge? Tenaya Lodge, just outside Yosemite National Park, which was named one of the World's Best Wellness Destinations in USA Today in the fall. The Lodge is hosting a Yosemite Healthy Living Retreat at the end of March.
THOSE DATES ARE... March 28 through 30, specifically, and the get-centered, move-forward goings-on are plentiful. Workshops on topics such as gait -- so important -- and posture -- so totally important -- are on the schedule, as are speakers from publications like Women's Health Magazine. Nature walks, flavorfully light meals, spa treatments, and other wellness-y haps fill the Friday night to Sunday midday roster. Could this come under the heading of spring cleaning for you? Getting rid of some cobwebs gathered over the winter months, in a breathe-deeply mountain-y setting? Packages kick off at $699 for a single guest.