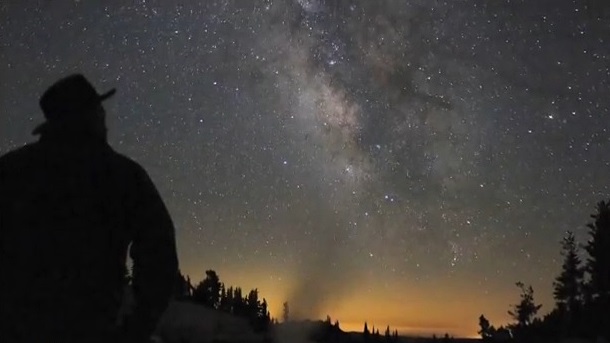 Dark Sky Festival
Want to experience a truly dark and rich sky and all of its pleasures? Make for Lassen Volcanic National Park over the first weekend in August.
RESOURCES ABOVE: When we think terrestrial thoughts, and we consider our planetary resources, and we ponder those things we love in nature, we rarely put the sky in the same class as, well, the sequoias or Joshua trees or our beaches. The sky is a faraway thing, nearly mythical in our minds and well out of our reach, and the concept of "saving it" seems like a storyline straight from science fiction. But consider that the night sky has changed a lot over the last century in countless places. Where once people could easily observe the Milky Way, well... that spectacular star smear through the heavens is pretty much gone. Not actually, of course -- our galaxy keeps on truckin', thank goodness -- but try to remember the last time you stood beneath its full, intense glory and where you were. Probably far away from a city, or even a small town, we'll imagine. Thinking about our night sky, and the rich darkness so many locations now lack, is one of the important pursuits of the annual Lassen Dark Sky Festival. The galactic-minded gathering twinkles beneath the vast velvety darkness from Friday, Aug. 1 through Sunday, Aug. 3.
THE TELESCOPE AND YOU: As you can imagine, many of the ranger-led programs -- rangers are a big part of the fest, given that this is at Lassen Volcanic National Park -- have an astronomical bent, so you'll be locating constellations, considering the moon, and talking about the cosmos in deep and thoughtful ways. Hikes and getting into nature are part of the nocturnal activities, so it won't be all standing behind a telescope. And a NASA Astrobiology tent'll be in the house (er, national park). "Half the Park is Dark" is one of the rallying cries of the weekend, so you'll revel in some serious Milky Way goodness. ("Lassen is one of the last sanctuaries of natural darkness," says the site.) But also good? That there are opportunities in this world to come together and not simply enjoy star-gazing but the darkness around those stars, and how a lack of light at night can truly plug us into the wider universe.