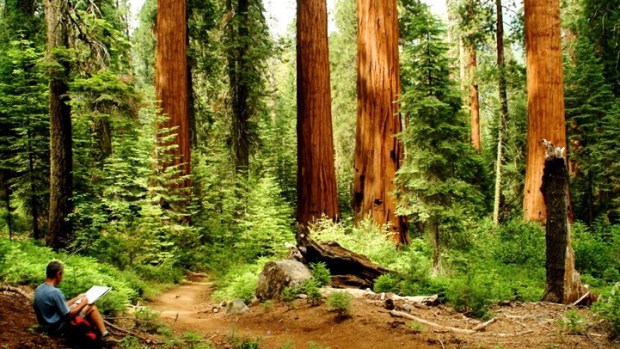 Sequoia Parks Foundation
Book the Sequoia Parks Foundation package at the Wuksachi, stay by May 12, and see 10% of your room rate go to the foundation's important conservation and protection efforts.
THANK YOU, NATIONAL PARKS: Earth Day is only important if you live on earth. That's not exactly true; surely it is as important to anyone currently orbiting our planet, seeing as how they'd like to come back to a world that is careful and responsible with its resources. And while the April holiday happens everywhere, there are places where the messages of the day are brought home. Like? A national park, for one. Our wildest, greenest, wettest, most arid, most gorgeous spots do much to remind us of all that we have to lose and all that we take a stand for. With that in mind, and to honor the holiday, fees are waived at fee-charging national parks around the country. Sequoia National Park is one, meaning that if you visit from April 22 through April 26, they'll wave you through at the gate (meaning you can get to the General Sherman tree and all of its epic forest friends that much faster). But if you'd like to do something a bit more for one of California's treasured spaces all while having a little vacation, you can. Just book the Sequoia Parks Foundation package at the Wuksachi Lodge.
ABOUT THE PACKAGE: The timing is right for this particular package, as it falls over Earth Day, but it does extend into early May. Meaning? You just need to stay at the Wuksachi by May 12. Now, the giving-back part: Wuksachi Lodge will make sure ten percent of your room rate goes to the Sequoia Parks Foundation, an organization that looks after the conservation, protection, and future of our big trees. Nice? Very, and room rates start at $115 a night, double occupancy. Better yet, your park fee -- twenty bucks -- is waived on this one, if you visit before or after that free National Parks Week deal. It isn't often one sees a hotel package that has a giving-back element, so we want to personally high five this one. Also, if you've never seen the sequoias, you will need a full night's rest somewhere close after you do. They are that overwhelming and your full capacity for soaking them in will be called upon. Trust. There's no happy exhaustion on earth like the happy exhaustion following a first sequoia visit. Or a second. Or a third...