worth the drive
Herbie Hancock + Monterey Jazz + Legendary Music
The last weekend of summer means cool sounds near the Bay.
Wednesday, Aug 27, 2014 • Updated 10:14 AM PDT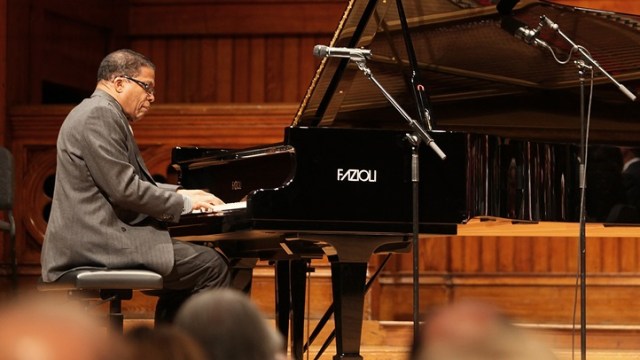 Getty Images
The 2014 Monterey Jazz Festival hosts several legends, including Herbie Hancock. The sounds shimmer from Friday, Sept. 19 through Sunday, Sept. 21. (Photo by Gail Oskin/Getty Images for American Academy of Arts and Sciences)
THAT FULL WEEKEND OF FEELING: What music fan would ever pit festival against festival, in the quest to raise his or her favorite party up above all the others? Well... a lot of music fans might. We have our loves, and the weekends we block out automatically, year after year, in expectation of standing in front of a stage, watching a longtime favorite, or a brand-new performer, make magic on a keyboard or a xylophone or a guitar. But there are a few chord-and-strum-and-horn lovely parties around California which kind of sit outside of the "which fest is best" debate, if only because they've earned that distinction through several decades of being around, yes, but also drawing the most stellar performers of their particular form. Monterey Jazz Festival qualifies in the "been around for several decades" arena -- some five decades in all, plus seven years -- and it is le ultimate for jazz greats and jazz fans and jazz scholars. Is "le ultimate" going far enough, though? Because the 2014 roster is rich with luminaries, like...
HERBIE HANCOCK: The recent Kennedy Center honoree will open up the Arena Artists run on Friday night, Sept. 19. The influential artist is the leader in the wider world of jazzdom, experimental audio journeys, and creative giving-back-a-tude, so call Mr. Hancock's let's-start-this-fest appearance a complement to the festival's tip-top reputation. But more, more, more excellent performers are set to follow over the three-day sound celebration, from Booker T. Jones to The Roots to Michael Feinstein to Shawn Colvin to The Charles Lloyd Quartet. There's the Arena section and the Grounds Artists, which alone will host 78 shows from Sept. 19 through 21. An "international shopping bazaar" and food and drink and jazzy happenings outside of the live tunes are the way things flow in Monterey. Other festivals around California? You are great, but if you ever need a dash of oomph, you know the music celebration to look to, for inspiration and how-to-do-it-ness.
Copyright NBC Owned Television Stations