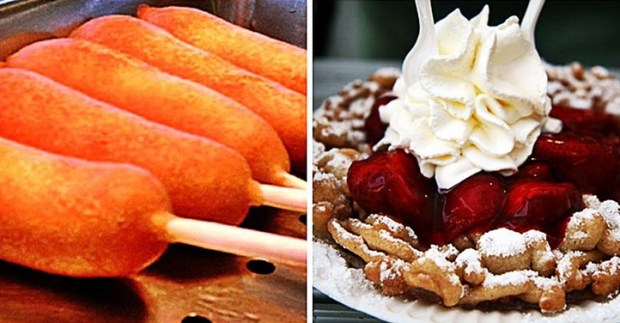 California State Fair
Fair time and unusual food -- or at least those treats you only enjoy once a year -- go together hand-in-stick (or perhaps hot dog in batter). The California State Fair opens on Monday, July 12.
WHAT'S YOUR FAIR FOOD PERSONALITY? It's rather surprising that no enterprising sociologist has yet to develop a survey of some sort that pairs fair goers with their favorite treats (and what those treats might say about them). We're not sure we'd entirely buy it if someone told us that we're on the saltier side because we go for olive and picked snacks, but we do have a hunch that fair regulars wait all year to head back to the same booth for the very same treat that they enjoyed the year before. Then, and only then, can they sample this year's buzzed-about bite (usually something deep-fried, on a stick, or both). The fact is, though -- and no survey is needed to confirm this -- that food is big business for our county fairs and for the California State Fair, Sacramento's annual summertime party. Nope, the eats are not a byproduct, something that attendees occasionally partake in to build energy. Very often the fried candy bars and donut-bunned hamburgers are the reason for the visit. If this is you, we raise our crunchy golden candy bar in your direction and point you toward the latest offerings of the California State Fair, which is set to make merry in our capital starting on Friday, July 12.
WHERE TO BEGIN THE BITES: Over 100 vendors will be on the Cal Expo grounds, serving veges, meats, fruits, sweets, and several delicacies that contain a little bit of everything, or at least two things. Deep fried mac 'n cheese -- wait for it -- on a stick, deep-fried cream cheese with sweet-hot sauce, and deep-fried cheese curds are three of the many foods that begin with "deep-fried." Lighter fair fare includes chilled edamame and veggie kabobs. And we're most intrigued by the chocolate-covered wine grapes, sorbetto-filled fresh fruit, and, yep, deep-fried Pop Tarts. If you can't try all you'd like in a day, keep a calendar handy: It keeps on truckin', along with its many offbeat edibles, right through Sunday, July 28.