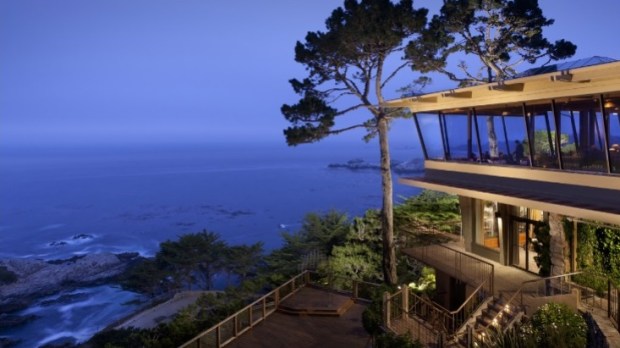 Hyatt Carmel Highlands
Hyatt Carmel Highlands will launch a new hiking package on June 1. What's in the stir of things? Several area walks around the Big Sur coast, and picnics from the hotel's kitchen, too.
HIGHLANDS IDYLL: There are several places around our state, particularly the Central Coast, where getting outside and being outside -- there's a different, of course, when one italicizes being -- is almost mandatory. The Carmel Highlands along the Big Sur coast practically begs you to leave your car or tour bus or hotel or restaurant and go a-wanderin' through the redwoods and on the sand and by wildflowers and waterfalls. We won't call it an embarrassment of natural riches in that area, because "embarrassment" is far too pejorative. It's a wonderland of natural riches, with vistas involving both land and ocean that look like they might have been heavily stage-managed by a coffee table book photographer (they were not; again, all natural). There are a number of hotel packages in the area, as always, but the ones that encourage guests to break out beyond the property and explore the area get our greatest love. The Hyatt Carmel Highlands will do just that starting on June 1 when it celebrates National Great Outdoors Month, and then National Picnic Month in July, with a new hiking and picnic experience.
PICNIC + GUIDE: You'll wander coastal trails with an experienced guide right into the Big Sur Wilderness (this means the occasional redwood, waterfall, and wildlife sighting, too -- maybe a grey whale or a condor or some Monarch Butterflies). The hotel will pack you a picnic in your special picnic backpack (yep, you can take it home and think about your hike as you're using it for runaday errands). Packages start at $600. And the walks? Oh, you might do the Walk of the Married Redwoods, or the Meditation Walk, or Bluff Trail, or Waterfall Walk. Just pat yourself on the back that you're finally seeing the area from a trail and not through a windshield.