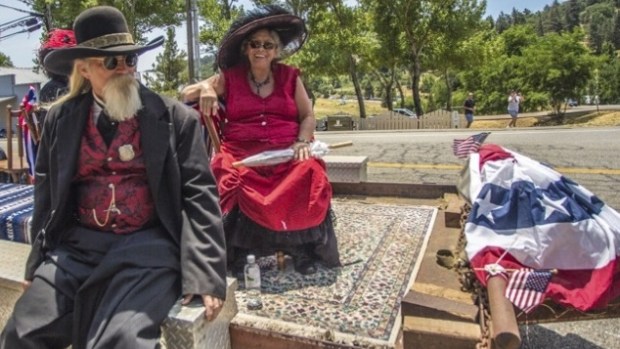 Julian Fourth of July
Ye olde costumes and banner-covered trucks are seen around Julian on the Fourth of July.
YE OLDE INDEPENDENCE DAY: When you think of the Fourth of July, what's the initial image that pops into your head? Is it a fireworks show? That's probably what a lot of people land on. Maybe a baseball game? A barbecue? Whatever tradition your family observes, year in and year out? It's one of the most nostalgic holidays, Independence Day, but we often alight on modern things -- pyrotechnics or firing up the ol' gas grill -- when it is time to celebrate. Of course, Americans observed the Fourth of July back in the 19th century, and, you bet, it had a more homespun, small-town feel over all. The town of Julian captures that 1800s-y Fourth of July each summer via its Main Street parade. True, the vehicles in the parade are definitely not from the 19th century -- they tend to be rather of today -- but the costumed participants and banners and bunting and red, white, and blue touches everywhere take on an especially old-fashioned mien. In fact, the theme is "Grand Old Flag," so if you've been longing for a July holiday experience with a hefty dose of quaint-a-tude and charm, Julian delivers.
DATE AND DETAILS: Indeed, the Fourth of July parade in Julian really does happen on the Fourth of July, which is a Friday in 2014. The parade is at noon, but arrive by 10 a.m. for music, an Old West-style robbery, a quilt show, and a flyover, as well as remarks made by local leaders. Fiddling, a concert, mariachi music, and more celebratory convivialities follow the parade. It's free to see, of course, and even if you don't have a ten-gallon or chaps, you can still think about what folks might have worn to a sweet stroll up Main Street back in 1890 or thereabouts. Nothing wrong at all with the modern take on Independence Day -- big spectacle, big fireworks, big everything -- but sometimes one wants to sit on a curb, eating Julian apple pie, and waving a small flag. That works, too, and very well.