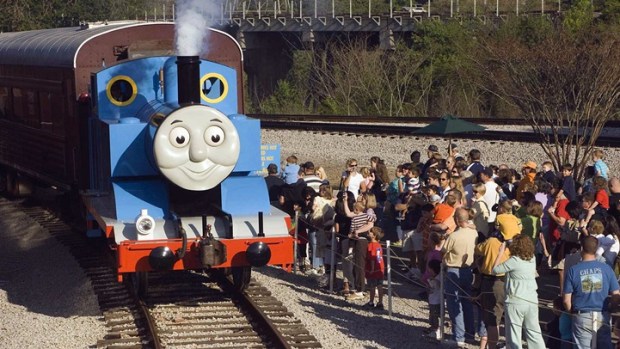 Thomas the Tank Engine
Thomas the Tank Engine will roll into Perris, California over two November weekends. Want to take a ride? Best book soon.
SUPERSTARS OF TRANSPORTATION: The most wonderful thing about kid entertainment, in our opinion, is that anything can come to life and be magical and talk and have adventures. Once you're grown-up characters have a way of being only human, with the occasional vampire or outerspace alien in the mix. But children? They like to see sugar bowls chat and dolls dance and the whole world come to enchanting, sparkly, fluffy life. This is fantastic, but the only tricky bit is this: When a kid wants to meet a beloved character, the beloved characters that are, well, human, or human-esque, are a bit more accessible. If a fictional favorite happens to be a plane or a hot-air balloon or another superstar of transportation, things get a bit trickier. Yes, a person can wear a plane costume, but you can bet your tyke'll ask where the big plane is. So when one of the ultimate superstars of transportation rolls into into a region over two November weekends, and he's actually the very, very large size he is on the show, well. Call it kid-tastic and rare. And call him, of course, Thomas the Tank Engine, of the long-running, mondo-beloved British phenomenon.
HE'LL BE CALLING UPON... the Orange Empire Railway Museum in Perris over two weekends: Nov. 9 through 11 and Nov. 16-17. Thomas will be giving 25-minute rides, real rides on train tracks, so count on the younger fans in your family being satisfied that he looks pretty much like he does in the books and on TV. Other characters like Sir Topham Hatt will be at the station, and activities like storytime are promised. A ticket is nineteen dollars, and that's ages 2 and up. The fun bit is this: A Day Out with Thomas tour has been traveling now for 18 years, meaning that some kids who enjoyed it during year one are now heading back with their own wee tots. It's popular, too: Tour reps estimate that the tour reaches a million people a year. Yep, Thomas is, indeed, a superstar of the transportation world.