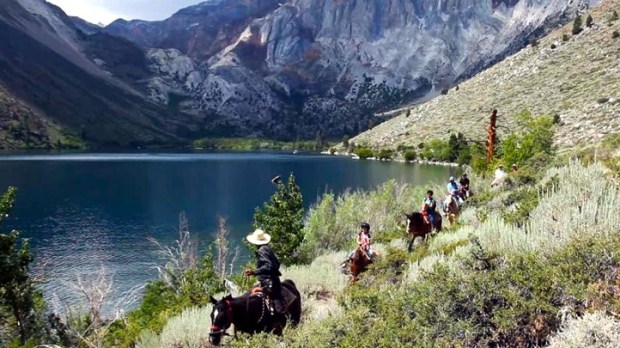 Steve Marino
Horseback riding is now open for summertime at Convict Lake Resort.
CONVICT LAKE CLIP CLOP: The Sierra Nevada are home to a number of spectacular bodies of water. Oh, we'll definitely trot out "spectacular" there, because the lakes and rivers and waterfalls in that long spine of mountains that wends its way down the middle-ish, Nevada-close-ish part of our state have a way of showing up on postcards and t-shirts. (Can we use that as our measuring stick? If a natural place ends up on postcards, it is probably spectacular?) The big water drops of Yosemite Valley and the Mammoth Lakes and, yep, Mono Lake (we know, not truly in the mountains, but we'll throw it in for color) get a lot of play, for sure, but from time to deserving time Convict Lake gets the love. As it should; it isn't all that far from the Mammoth Lakes and offers a whole caboodle of recreational to-dos. And, yep, it has that wild/wooly Old West name.
ABOUT THAT RECREATION: One of the biggies to do around the lake, beside catch trout and more trout, is to get in the saddle and take in the valley views from a lopey walk. And now you can: Convict Lake Resort's 2012 horseback riding just opened up for the season on Monday, May 14. They're two-hour rides, beginners are a-ok, and they're $60 a person. Oh, and a "scenic meadow" is on the route. We'll call it the antidote to cubicle coop-up, standing a meadow, next to your horse, thinking vast Sierra thoughts. Can we use that as our measuring stick, for all other antidotes to the stresses of the working world? "Is it as relaxing and fun as horseback riding in a Sierra meadow?" That seems to work. Note that the Convict Lake Resort horseback riding will close shop again come the week or so before the start of fall.