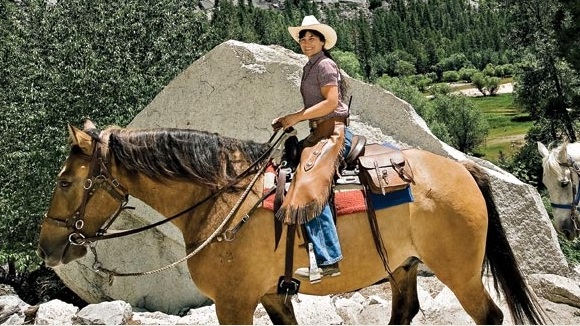 Yosemite Valley Stable
Want to see some fresh parts of one of our most famous national parks? Clip-clip to Yosemite's Mirror Lake on a pony from the Yosemite Valley Stables.
THE EL CAP CLICK: If you've been to one of the world's most famous valleys, and certainly what is among our best known national parks, we're going to make a pretty solid guess that you pulled over to take a photo of El Capitan. We're talking about the spot that is always lined with cars, regardless of the season, as people brake, exit, and pause to gape at the granite behemoth. And, truly, El Cap deserves all the gaping that comes its way, so we certainly aren't casting aspersions (and we've been among the gapees in the past). But there are other views in the park, of course, and other things to photograph. We can get in our wonder and beauty ruts, even in a spectacular setting that offers up a million, literally, new sights in all directions. One way to go and find those fresh takes is by horseback. The Yosemite Valley Stables just opened for the summer season, and, hello hello, they bypass some of the main sights of the meadow-laden floor and make for Mirror Lake.
THE CLIP-CLOP CLICK: And the ride is definitely about taking pictures in addition to communing with nature, your fellow riders, and, of course, your gorgeous pony. The ride takes two hours to Mirror Lake, meaning you should carve out about a half day in all. You'll see Vernal Fall. You'll also want to be aware it is described as a "strenuous ride," with switchbacks and slope action, so take note. If you are up to that ride, though, and you want some novel perspective on areas most visitors don't get into, a half-day hoof to Mirror Lake and back could be the ticket. Call it Yosemite for the adventurous, ready-to-ride shutterbug.