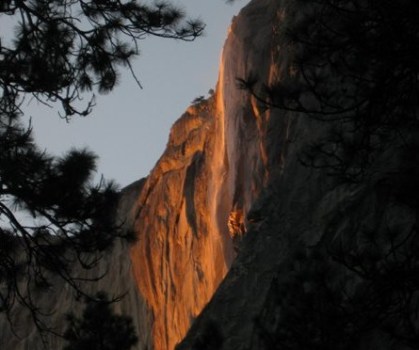 DNC Parks & Resorts
Horsetail Fall glows at sunset every mid-February.
AMAZING SIGHT: Not every natural wonder has a particular window of time where it makes headlines, year in and year out. But then not every natural wonder is Horsetail Fall in Yosemite Valley. The waterfall is grand and spectacular and toe-curlingly high, like other waterfalls in the national park, but it is positioned juuust so so that, come mid-February, something curious happens. That curious event? Sunset lights up the water as if it were fire, and just for a moment or two. Um, neat, right? Neat x 1000.
2011 DATES: The "firefall" show is supposed to last through Presidents Day Weekend, maaaaybe. It'll end when it ends, you know? Can't tell the sun and Yosemite what to do. Scott Gediman of the National Park Service told us some 60 photographers were out on Tuesday, Feb. 15, shooting the gorgeous sight. Whoa. He also says that "around 5:30 p.m." is about the time it has been happening, but we'd arrive earlier. Of course. But note: It is currently snowing in the valley, as of this typing, and sun is required to make the magic happen. Best call 209-372-0200 to track Yosemite conditions.