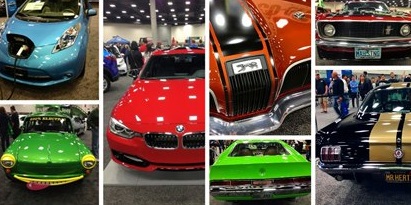 San Diego Auto Show
Cool vintage and cool modern and cool everything? Yep, it all can be found at the San Diego Auto Show, which kicks off New Year's Day at the San Diego Convention Center.
EVERY CAR MANUFACTURER... worth its leather-lined bucket seats has a stirring and forward-looking motto that's hung around since the company was founded way, way, way back. Likewise, every mondo convention that focuses on fender-related pursuits must also have a catchy tagline, and the annual San Diego International Auto Show definitely does. "Where the Cars Are the Stars" is go-to catch-line for this auto-brimful show, and the motto isn't exaggerating: It's all about cars, straight up. "(O)ver 400 vehicles from 36 global manufacturers" make a cameo at the San Diego Convention Center during the convention's five-day run, and there are a number of Ride & Drive events as well. Chrysler, Dodge, Buick, FIAT, RAM, and Cadillac are some of the hood ornaments and grill logos you'll see during the ever-popular Ride & Drive. Oh, and there's a Camp Jeep test track, too.
START THE NEW YEAR OFF... with a vroom. While many people bemoan the fact that New Year's Day is a quiet one, with a lot of stuff shuttered or semi-closed, car enthusiasts can take happy heart: The auto show kicks off on New Year's Day proper, and cruises right through the following Sunday, which is Jan. 5. Is there something auspicious about picking out your dream vehicle, the one you want to work toward owning, on the very first day of the year? Maybe, maybe not, but it has to be a barrel of fun, dreaming a little (as all people should do on New Year's Day). There's also a 50th anniversary salute to Mustang, so bet the Mustang mavens from near and not so near'll be turning their beloved wheels toward the city. With LA's own auto show now wrapped for another eleven months, this is the spot to keep the car love flowing. And see for yourself why the shoe fits -- or, um, the motto for this convention is spot-on.