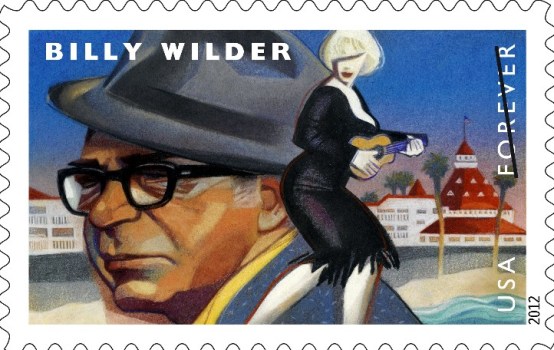 USPS
The new Billy Wilder stamp shows the Hotel del Coronado (and Marilyn Monroe, natch). The USPS stamp will debut on Wednesday, May 23 as part of the Great Directors Stamp series.
INN-SIDE A STAMP: A lot of people who oversee hotels are forever thinking about ways to get the word out about their properties. Advertising? Deals? All of the above? There are many solid paths to connecting with customers. But here's a novel one: Be on a stamp. Of course, getting on that stamp may take some time and some luck. And your hotel may share the small rectangle with a famous director and the cinema history's most celebrated sex symbol, which are both pluses in our book. Which is all leading up to the exciting word that the Hotel del Coronado will appear on the new USPS stamp saluting Billy Wilder. It debuts on Wednesday, May 23 as part of the Great Film Directors series.
SOME LIKE "SOME LIKE IT HOT": Oh, we're kidding no one when we say "some like" this classic comedy. Everyone loves it, it regularly tops important lists (hi, AFI's 100 Years...100 Laughs), and the Hotel del plays a major part in the film. So it is fitting it would appear on a stamp with Mr. Wilder and Marilyn Monroe. (Surely you noticed that the stamp pictured has more va-va-va-voom going on than most stamps? All respect, USPS, but it is true; this is a stamp brimming with heat.) We can only imagine that the hotel will be stocking up on the stamps for guests to purchase for those letters home. Can you imagine being handed a stamp of the very building you're standing in? Love. So cheers to the memory of Mr. Wilder and Ms. Monroe and cheers to a great hotel. It looks pretty much like it did when the movie debuted over a half century ago, too. Check the stamp and see if we're right.