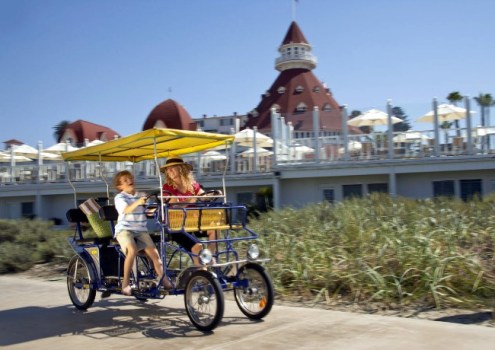 Hotel del Coronado
The Free Night Offers is on at Hotel del Coronado.
IT'S A WINNER: It isn't often you see the word "free" in a hotel deal. But, if you do, it is very commonly a common thing. Oh, free shoe shine cloth to the first 50 people to book in the last two weeks of the month, that sort of thing (we know, free continental breakfasts aren't uncommon, but we'll never knock those; those do now and will always after rule). But a free room? Yeah. You never see that. And at a landmark hotel? Now you're getting into fictional territory. But the Hotel del Coronado does indeed offer an oh-so-popular Free Room deal, and it is very straightforward. The upshot? Get fifty-percent-off a second night, or get your third night free when you book two nights, or get your fourth night free when you book three nights, or, wait for it, get five nights and only pay for three, under the Free Room Offer.
DATES YOU NEED: You need to book your stay by Jan. 31, and you need to stay by June 28. There are asterisks, of course, like with any big package, so do your research before hitting the book button. But that five-nights-for-three? Swanky. That's the one to get, if you can swing the time and cost. Oh, also: Hotel del recently refurbished 368 guestrooms in its Victorian building (which, you can guess by the name, is pretty historic -- like 124-years-old historic). "Victorian-era motifs" are present in the design, but it is a modern, updated look. For more, check out the hotel's site.