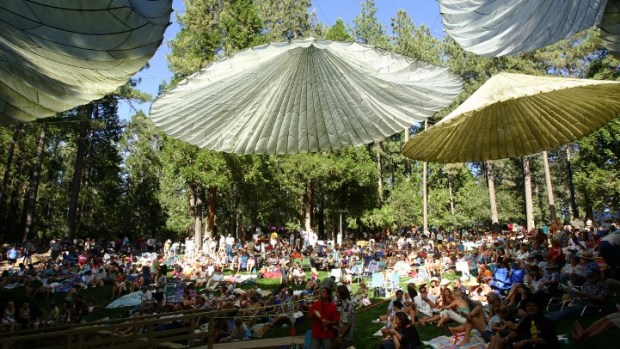 Jazz in the Pines
Jazz in the Pines unfurls in Idyllwild on Saturday, Aug. 25 and Sunday, Aug. 26.
COOL TEMPS/TUNES: The heat down below has been frankly mid-August-y, which is an official, semi-scientific term any Southern Californian will immediately understand. It's the one time of year that, anecdotally speaking, the fan aisle at the local home improvement store is *the* place to see and be seen. And while many lowlanders' thoughts are turning to ways to keep the home fires from being too torrid, others are thinking of nearby mountains and cooler climes where they can ride out at least a few days of this warmest of months. Our own thoughts are turning to Idyllwild. Not only is the San Jacinto town perfectly sweet, but it is also home to Jazz in the Pines, the annual music weekend that is set for Saturday, Aug. 25 and Sunday, Aug. 26. The timing could not be more perfect; those who love smooth sounds and avoiding the heat below will find it a solid combo. Want the details? Okay.
GIGS APLENTY: There are couple of places to watch music -- the main stage and the Barn -- and bands'll cover everything from zydeco to straight-up jazz. It's a nice, mountain-sweet, laid-back get-together, for sure, and it raises money for arts education to boot. Plus, the photos? They cool us down instantly. If you can't make it up for Jazz in the Pines, keep the town in mind when the temps dip; like its high-elevation cousins Lake Arrowhead and Big Bear, Idyllwild can be treated to some very pretty snowfalls. Funny to consider when you think it isn't so far from the pools of Palm Springs. Oh, California; you always intrigue.