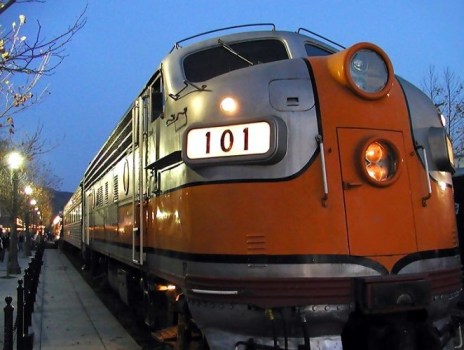 Fillmore & Western Railway
Go in search for the Headless Horseman on the Fillmore & Western Railway starting on Friday, Oct. 14.
TRAINS WITH A TWIST: While most of us tend to read our papers or our books or people-watch while on a train, loads of people, big and small alike, will be keeping watch out the windows of the Fillmore & Western starting on Friday, Oct. 14. That's when the Fillmore-based railroad's Headless Horseman rides kick off (though "clip-clop off" is probably more accurate). It's a "Family Dinner Train," meaning it is appropriate for the kidlings, too. Though, of course, it may be a little scary. "In Search of the Headless Horseman" is the train's name, after all. Also? Costumes permitted. We love reading that, weeks ahead of Halloween. Dang, we'd be wearing costumes in July if allowed.
THE DINNER: It's barbecue tri-tip and other fixins, and the ride is on from 6:45 through 10:15 p.m. We know. That's up-past-bedtime for lots of families, so maybe an extra long nap'll be in order. If a nighttime outing is out of the cards for your people, the Fillmore & Western Railway's Pumpkinliner is now running on weekend days. We did this with a group of adult friends, sans children, and loved. Autumn and trains. It's the stuff of a movie, really, or perhaps a greeting card. Not a bad little mind vacation from the bustle of the week.