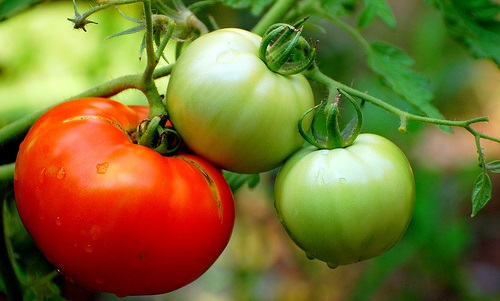 Tomato
Tomatomania!, the mondo tomato lover's tour, kicks off just ahead of spring's arrival.
SUPERSTAR SEEDLINGS: Fruit has its fans, and specific fruit boasts buffs so hardcore that they'll journey to a small stand two towns over to purchase a specific crop from a specific grower, after much squeezing and tasting and testing. It's a great thing, given that we all should be looking closer at what's on our plates. Some fruit, of course, is so popular that it gets a festival, and the mega beloved avocado and strawberry? They enjoy multiple parties each year in different California cities. But what of the special juicy orb that's so mythologized in certain corners that it gets its own tour? Nope, it doesn't have amp-moving roadies or the guy who tests the guitars. What it does offer, though, are plentiful heirloom tomato seedlings and the people who know excellent tomatoes. Really excellent tomatoes, the kind that bring the flavor of whatever plot they flourished in straight through to the salad on your table. Tempted? Then you, dear tomatoist, are likely heading for Tomatomania! this spring.
YEP, THERE'S AN EXCLAMATION POINT... because there should be one. This is one of the ultimate spots for scoring excellent varieties of cherry tomatoes and vine-ripened beauties, and discovering how to coax your own plants in a way that they'll keep producing well throughout the warm season. (But tomato plants kind of have a genius for that, right?) The tour will make several Golden State stops, with a tasty round through Cornerstone Sonoma at the end of April. So, how will your salads be this summer? Full of heirloom magic? And forget salads; don't you just want to slice a tomato super thick, put a little mayo and salt between two crusty pieces of sourdough, and make that lunch? Yeah you do, because you're feeling the Tomatomania!, and that exclamation point to boot.