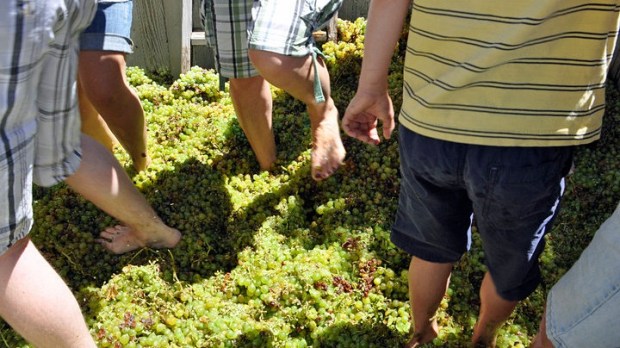 Menghini Winery
Get mano y mano -- or feeto y feeto, perhaps -- with grapes at the annual Grape Stomp Festa in Julian. The spot? Menghini Winery. The date? Saturday, Sept. 7.
REALITY VS. ROMANCE: Even the most serious of oenophiles can take pause at the methods of modern wine-making. Of course we know that major machines and pressing devices and the latest technology is employed in libation creation, and that this development is a positive thing. It allows vintners more control over their final product and, ultimately, it allows for more final product. Win-win. There are other wins, too, including an expedited process. But our minds often flitter back to a romanticized day, when the making of wine started with the crushing of the grapes, an act best performed by the bottom of a foot. This time-honored process still occurs in certain places, sometimes ceremonially, sometimes to summon a bit of history, and sometimes for sheer fun. The Menghini Winery in Julian is one such spot that invites people to take off their shoes and squish some grapes, at least during the Grape Stomp Festa.
FESTA FACTS: The next annual make-a-mess merriment is up on Saturday, Sept. 7 and one of the best bits of the day? A barrel for stomping is provided for kids as well as adults. This makes sense, right? Little feet don't have to compete. Bocce ball, the tasting of vinos (of course), and live tunes complete the olden-timey shenanigans. Not olden-timey? The commemorative wine glass adults score with their $10 admission. Call it a fine and storied way to greet both fall and the harvest. And call it a very good reason to stash a towel or two in your car's trunk right now.