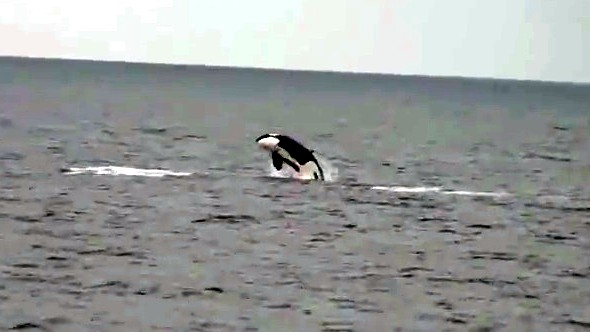 Davey's Locker
Yep, that's a gorgeous killer whale breaching near Newport Beach.
WHALES WOWZA: Been on a whale-search boat trip? Sometimes you see something shimmery in the water, sometimes the whales are particularly coy. It's all sort of luck and time of year and whether those huge, beautiful mammals happen to be crossing your path at the time you're on the water. (Us? We're never disappointed, because we usually get some seal-love action along the way. Bark bark.) But a killer whale? The orca? And make that multiple killer whales? All breaching? Taking to the air with the classic whale twist? Yeah. That happens in movies, mostly, and documentaries. It's an incredible and rare sight, and Davey's Locker caught it on video last week. We can still hear the gasps from the Newport Beach-close vessel, practically from where we sit.
We're in the thick of whale-watching season, of course, though killer whales are not a common sight off our shores. Have relatives in town for the holidays? Hop on a boat and see what you see. Bet you'll definitely meet some flippered, barky pals along the way, and various gulls and sea birdage, too. And maybe, maaaaybe, if everything comes together, you'll see this...